Our 2013 Readers Choice product survey asked builders "What's your favorite product?" and directed them to describe why that product is so beneficial. Some gave us old standards they've relied on for decades. Others raved about game changers that only recently hit the job site. Eighty-eight products made the cut and the following sixteen received special recognition based on respondents' outstanding reviews.
Special thanks to our valued readers who responded to our online Readers Choice survey and calls. And congratulations to Sandra Moineau, Main Street Homes' options coordinator, who was randomly selected from the respondents to receive a $100 Visa gift card.
Readers Choice: Advantech Subfloor Panels
Designed to outperform OSB and plywood, AdvanTech subfloor panels compete based on stiffness, moisture resistance, and installation speed. "It goes down easy and stands up to most weather extremes," says Greg Kelley of South Carolina-based Kelley Builders. Though, he notes, the product has a higher price point than commodity OSB or plywood panels. Despite the cost, the product's rigidity and resistance to moisture make for reliably flat and quiet floors, respondents said. The product has ranked first for quality in the OSB category in BUILDER's Brand Use Study since 2002.
Readers Choice: Azek Decking and Trim
Engineered to limit the shortfalls associated with traditional wood decking, Azek says its products offer a low-maintenance alternative impervious to moisture and insects. Craig Attix, owner of P & A Decks in New Jersey, favors Azek: "It's invulnerable to just about everything," he says. Though, he adds, the material can turn brittle in cold climates, which complicates nailing. Joseph Martin, owner of TTD Builders in Nashville, Tenn., praises what he says is the product's standout benefit: "It won't rot." Azek offers a limited lifetime warranty against fungal decay, as well as blistering, peeling, flaking, cracking, splitting, cupping, rotting, and structural defects.
Readers Choice: Certainteed Landmark Solaris
This hybrid roofing material from CertainTeed contains advanced granules that reflect the sun's rays. Bob Kayser, purchasing manager at Gentry Homes, tells BUILDER that he installs the cool roof technology regularly: "We're always looking for the latest and greatest in energy-efficient building materials. [In Hawaii,] we're looking at 35 cents per kilowatt-hour." The steep-slope, solar-reflective asphalt shingles can reduce a roof's temperature by as much as 20 percent in the summer, according to the firm. The line's rich colors all meet Energy Star standards for solar reflectance and thermal emissivity.
Readers Choice: Delta Touch20 Faucet
Touch2O technology lets users start and stop the flow of water by tapping anywhere on the faucet. It's available in kitchen and bath lines and in transitional and modern styles. Unlike some touchless options, the tap-on-tap-off technology is intuitive and consistent, the maker claims. "It's had a lot of good feedback," says Sandra Moineau, options coordinator at Main Street Homes in Virginia. "You don't know you need it till you don't have it." According to the manufacturer, the faucets work with any sink material—including stainless steel—though it advises against installing with a metal backsplash.
Readers Choice: Dewalt Cordless Tools
A pioneer in professional cordless solutions, DeWalt claims to test its tools under the most demanding conditions in the industry. Paul Castillo of California-based Castillo & Sons says that they are "the best tools around." The most recent additions to the company's line of more than 200 cordless tools include brushless motors and high-capacity 20-volt lithium ion batteries, though it continues to roll out new products for its 69 million 18-volt cordless system users. The tool maker also offers more than 800 accessories. Got a smartphone? Try DeWalt's free construction calculator app.
Readers Choice: James Hardie HardiePlank Siding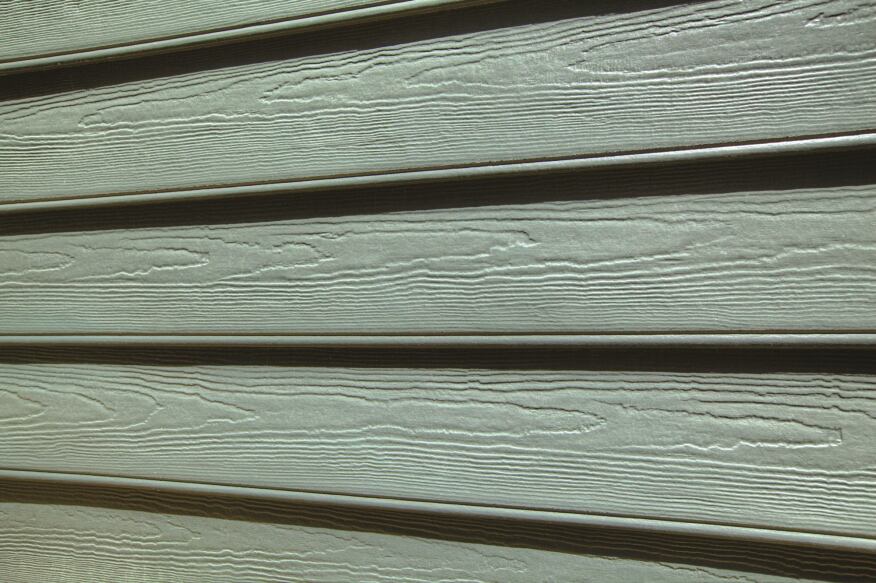 HardiePlank siding was a top vote getter in this year's Readers Choice survey because of its no-fuss good looks and other significant attributes. "It's tough as nails, easy to paint, long-lasting, and available in so many so many patterns," said Joseph Herr, director of design at Burstead Construction in Washington. Chris Smith, purchasing manager at Goodall Homes in Nashville, agreed: "We use James Hardie siding for streetscape reasons," he said, joining other respondents who complimented the fiber-cement siding for its handsome appearance. Two key technologies contribute to the siding's low maintenance. James Hardie's HardieZone system places products in lines for specific climates, while patented ColorPlus technology uses a factory-applied finishing system for fade-resistance and color-adhesion.
"It comes down to providing years of low maintenance and peace of mind," said John Dybsky, senior marketing manager with the company. "We've gained the confidence of builders through the test of 25 years on the market." Two respondents did note, however, that the dust produced while cutting the product is one short fall.
Readers Choice: Icynene Spray Foam Insulation
A product favored for quality in BUILDER's 2013 Brand Use Study, Icynene was heralded byReaders Choice respondents as "phenomenal" and "fantastic." The spray foam insulation provides energy-efficiency payback in any environment as well as design flexibility, moisture control, and improved indoor air quality, according to the company. The drawback? "Maybe the initial cost," says Douglas Peterson, director at The Housing Co. in Indiana, "but not when looking at operating costs." In the past 25 years, licensed contractors have installed Icynene in more than 300,000 projects, the firm says.
Readers Choice: LP SmartSide
Bob Boyle, owner of Syracuse, N.Y.–based Thunderbird Builders, identified three major benefits of this wood-based substrate: "Easy installation for a small [one-to-three-man] crew, great paintability, and it's primed to resist weathering." Starting with fibers or stands from fast-growth trees, SmartSide is engineered for strength and protection against fungal decay and termites, the manufacturer claims. The resulting product, according to LP, is stronger than wood yet lighter than fiber cement. The trim and siding products come in four collections, all with the look of traditional wood.
Readers Choice: LP TechShield
LP TechShield is a radiant barrier that installs like conventional roof sheathing. Made with an aluminum sheet laminated to panels of LP OSB, the technology creates a radiant barrier that helps block attic heat from entering the home. Patrick Mayhan, purchasing manager at Houston-based Westin Homes, tells BUILDER: "It cuts down on homeowners' utility costs and is a selling point for homes." Don Dykstra, president at Bloomfield Homes in Texas, agrees, noting that his firm adopted the product in the past five years and now uses it regularly. More than 1 million homes have been built with the product in the past decade, according to the company.
Readers Choice: Milgard Windows & Doors
Milgard Windows & Doors offers a full line of vinyl, wood, fiberglass, and aluminum windows and patio doors. Ted Argo, principal at Argo/Architect in Beaverton, Ore., specs Milgard products and says he is looking forward to working with the company's Moving Glass Wall Systems. With 12 standard-size options in three- or four- panel configurations, Argo says the line could lower the cost of installing wide-opening patio doors. Bob Kayser, vice president of construction at Gentry Homes in Hawaii, also specs Milgard windows. "We like that it's American made," he notes. "It also has great quality and a 10-year warranty." Milgard's vinyl windows are consistently listed on the BUILDER Brand Use Study for quality.
Readers Choice: Moen Faucets
Survey respondents from BUILDER's 2013 Readers Choice products coverage applauded Moenfor its outstanding professional support. "Moen offers great follow-up service and warranty," says Bruce Wilde, warranty manager at Cornerstone Communities in California. Tony Finley, purchasing manager at Inverness Homes in Ohio, also touts the brand's "builder-friendly support." Moen's U.S. wholesale unit offers a dedicated trade website and trade services helpline, as well as training seminars and customized marketing support. The manufacturer's one-piece washer-less cartridge means no washers, springs, or discs—the most common causes of dripping faucets. The company's product lines range from entry-level to move-up to luxury.
Readers Choice: Panasonic WhisperGreen
Panasonic says its WhisperGreen bathroom exhaust fans help builders comply with IAQ standards in green building certifications. Michael Chandler, president of Chandler Design-Build in North Carolina, now uses the Energy Star-rated ventilation fans regularly. "They're quiet," he says, adding that the"auto on-delayed off is a simple solution for distributed whole-house ventilation." The ultra-quiet 80 cfm fan operates at 0.25 inch w.g. static pressure. Newer generations of the line also offer LED lighting (shown). The fans fit in standard 2x8 construction, but Chandler notes that electricians will need to be told how to install and set the automatic timer.
Readers Choice: SharkBite Plumbing Fittings
The SharkBite push-fit quick-connect plumbing system might be the easiest way to join water distribution pipes. Just insert the pipe and push until the stainless steel teeth on the quick-connect fittings bite down and grip tight. A specially formulated O-ring then compresses to create a seal.
The sole plumbing accessory on our 2013 Readers Choice products list, pros nominated these handy fittings for their ease of use. Bob Boyle, owner of Thunderbird Builders in New York, told BUILDER: "I'm not a plumber, but [SharkBites] allow me to save a bunch of time -- and therefore money -- on small repairs and installs without having to get another sub on the job."
As it turns out, these reusable brass fittings are powerful little problem solvers. According to the manufacturer, they:
• Require no soldering, clamps, unions, or glue.
• Are compatible with copper tubing, CTS CPVC, and PEX pipe.
• Are certified to 200 PSI and 200 degrees Fahrenheit.
• Feature DZR forged brass body and 316 grade stainless steel fittings that resist corrosion.
• Are approved for use underground and behind walls without access panels.
The SharkBite product line spans a wide-range of plumbing accessories, fittings, gauges, and valves.
Readers Choice: Sherwin-Williams Paint
John Hughes, vice president of national contracts at KB Home, says his firm chooses Sherwin-Williams paint because it's "easy to clean and easy to maintain." Products like Duration Home interior acrylic latex paint actually repel stains, says the manufacturer, wiping clean with water or mild soap while maintaining its color and shine after washing. The Builders Solution interior latex paint also offers washability and scrubability, according to the company, and masks drywall imperfections when applied with an airless sprayer. Other options include the zero-VOC Harmony line and a full selection of primers, finishes, and exterior paints.
Readers Choice: Silver Line Windows
Silver Line by Andersen manufactures vinyl windows and patio doors. Colby Franks, executive vice president at Orlando, Fla.–based Royal Oak Homes, specified the company's 2900 series as a product he uses regularly. "After recent increases in aluminum-frame window prices, we found that vinyl windows were a competitive alternative," he says. "We looked at several manufacturers, but ultimately chose Silver Line because of their strong reputation for quality products. Silver Line 2900 also qualifies for an energy rebate in some municipalities." This single-hung vinyl window series features a colonial brick-mold design and is Energy Star-qualified with the appropriate options. Extensive design options are available throughout the series.
Readers Choice: Tyvek Home Wrap
"It's durable and performs like advertised," says Dan Gorski, vice president of purchasing and design at Madison, Wis.–based Tim O'Brien Homes, who, like other respondents, favors DuPont's trademarked home wrap. Since its development in 1955, Spunbonded Olfefin—the Tyvek material—has been found to absorb little or no moisture, resist rips, cut easily, and work as an air barrier, according to the company. As a weather barrier, DuPont says Tyvek has a number of performance benefits:
• The water resistance blocks excess water from entering walls.
• The breathable structure allows moisture vapor to pass through to promote drying in wall systems.
• The non-woven fiber stops air movement through walls, improving the home's energy efficiency. "It's rugged and easy to use," Paul Castillo of Castillo & Sons in California tells BUILDER. DuPont offers a specialist network of field reps to assist with on-site training and installation.