Ikea released its 2017 catalog this week, and the biggest trend is the move towards more unique options that let buyers mix and match products to suit their personal tastes.
Furniture

First up is the Vallentuna sofa series, which Ikea touts as its 'most flexible seating solution.' The couch is available in specific pieces so buyers can customize the number of sectional seats (either sleeper or storage sectional) as well as back rests, arm rests, and back cushions and can create a custom look with five different fabric options. No longer does a couch have to be all black - each sectional can take on its own look for endless options of personalized style.
Ikea is also introducing the Lixhult cabinets, a line of flexible and stackable metal square and rectangular cabinets that come in various combinations and colors. Each piece can include legs or be placed directly on the floor or even mounted to the wall. The retailer markets the pieces as perfect for the 'homeless' items or awkward spaces of a home where no other furniture fits.
The Knotten standing desk is also a perfect option for small spaces that adds some extra storage for electronics and presents buyers with a usable space for their laptop other than the couch. The desk features two lower level open shelves, two drawers, an additional shelf, side hooks for cords, and a desktop.
Finishes

The next option-adding featured product is Ikea's line of Kalvia Add-On Fronts for various cabinet lines. Created in collaboration with designer and artist Martin Berstrom, the Kalvia add-on fronts take inspiration from one of Berstrom's paintings and allow buyers to mix and match the pieces to create a unique collage across their cabinets. The doors come in six different sizes to fit the various cabinet lines Ikea offers.
The Barkaboda countertop brings in a distinct style to kitchens with a one-of-a-kind dark brown wood finish in a herringbone pattern. While most trends have opted for stone-inspired looks on countertops, Ikea is betting homeowners on a budget are looking for a more unique style that won't match their neighbors' kitchen counters.
Accessories

Ikea's new Rodarv cushion and Renrepe, Kuddviva and Brunort cushion covers are also an example of distinct style creeping into common home accessories. Ikea's designers have opted for traditional Swedish designs that will appeal to a very specific buyer looking for unique pieces. The Renrepe cushion cover features a hand drawn pattern from designer Pauline Machado highlighting geometric patterns with birds, deer and plants. Similarly, the new Rodarv cushion is an embroidered pillow rich in color and designs with animals and plants.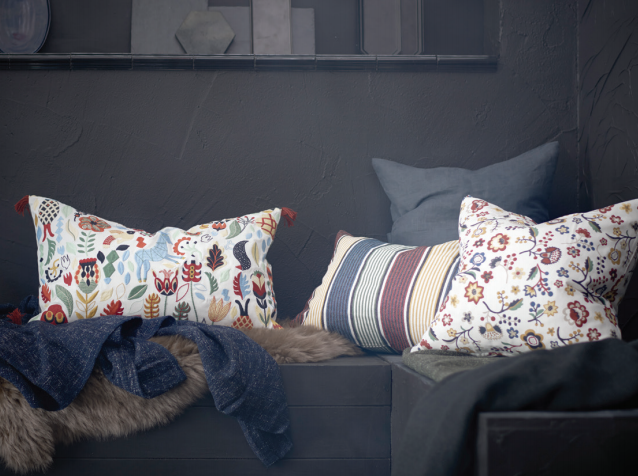 The Grundvattnet sink accessories are one of the most apparent lines endless space-saving and handy options. The chopping board and colander are designed to stretch across the sink to add much-needed counter space in small apartments. A small box and wash-tub are also available for storing kitchen utensils.