The annual International Consumer Electronics Show is full of innovative new gadgets sure to excite any tech lover, spanning from premium entertainment systems and major appliances to novelty gear like wireless tea kettles, smart toothbrushes, and sensor-equipped running socks.
One of the dominant themes at this year's show was the connected home and smarter appliances. Here are seven products displayed at CES that promise to deliver on homeowners' desires for efficiency and convenience—as well as a touch of dazzle.
Washer Hits Maximum Capacity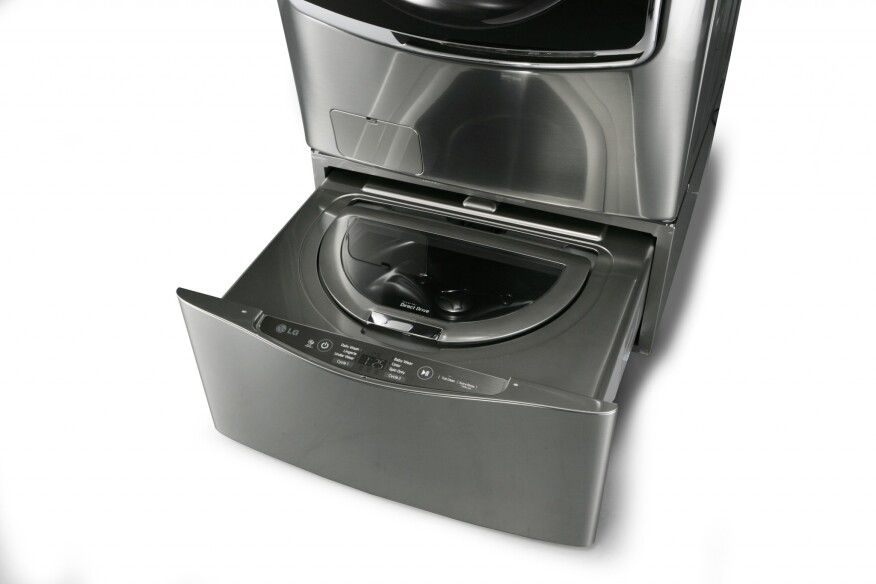 Among LG's many new products announced at the show is the company's new Twin Wash System, which incorporates a mini washer into the pedestal of front-loading washing machines. The mini washer, ideal for delicate items or those that require specific wash settings, can be run simultaneously with the main washer, saving space and time. The new washing models also include performance and convenience enhancing features such as a TurboWash speed cycle, EasyLoad two-way door system, and compatibility with SmartThinQ technology to remotely set and monitor cycles.
Security Integration Gets Inspired
Building off the success of its smart thermostat, Honeywell is expanding the Lyric family of products with a professional-grade home security system featuring security cameras; motion, smoke, and intruder detectors; and connected lighting, shade, and lock controls. In addition to being operable via a touchscreen controller, the system will respond to personalized voice commands to arm or disarm the system and adjust home lighting and temperature settings to preset preferences.
Flameless No More
Samsung made a splash at CES, announcing products from huge Super UHD TVs to tiny solid-state disk drives. They're also committing to the cooking category with the introduction of a new slide-in induction range that features Virtual Flame technology: LED lighting embedded beneath the cooktop's surface to mimic the appearance of a gas flame when in use, growing in intensity as power is increased. The range also features Flex Duo oven technology, which allows consumers to cook two dishes at different temperatures simultaneously in separate compartments.
Let There Be Light -- and WiFi
Sengled's intelligent LED lighting solutions are more than just lightbulbs—the company's Pulse, Boost, and Snap products also offer sound, WiFi, and a camera, respectively. Pulse includes a high-quality JBL speaker that can connect to seven satellite bulbs to wirelessly deliver audio throughout the home. Boost integrates a WiFi signal repeater to extend wireless coverage, and Snap features a 720p IP camera, microphone, and speaker. All of the bulbs can be controlled via Sengled's mobile app.

Energy Insight for Superior Savings
A longtime provider of HVAC solutions, Carrier has entered the smart thermostat market with Cor, designed to deliver maximum energy savings. Cor's mobile app allows homeowners to not only control the thermostat's settings, but also to view a comprehensive analysis of their energy usage and in-depth reports of the system's performance, including interactive efficiency tips. The thermostat can be manually programmed or use advanced options such as smart setback, which analyzes the home to provide the optimal temperature for comfort and efficiency.

A Futuristic Recipe
In a conceptual demonstration of the ultimate connected kitchen, Whirlpool's Interactive Kitchen of the Future 2.0 creates a unique level of integration, using touchscreen technology to control a backsplash and cooktop that wirelessly connect to social networks, websites, and recipes in a cohesive display. A connected suite of appliances would also communicate with each other to inform kitchen activity, such as to inventory the ingredients in the fridge or turn on the oven to have food ready in time for dinner.
Enter the Keyless Threshold
Alongside an illuminated touchscreen keypad, Schlage's newest lock, Schlage Sense, uses Bluetooth technology to let owners use their smartphone as a wireless front-door key for convenient entrance. The system is designed to work with Apple HomeKit technology, which provides advanced security and encryption and even allows homeowners to control the lock using Siri. Sense's app allows for the management and scheduling of up to 30 unique codes at a time.