What features do most buyers consider essential or desirable in a new home? Does the "most wanted list" differ across generations? The National Association of Home Builders has recently published the results of a survey that asks key questions on how various designs influence the home purchase decision to respondents across four generations: millennials, Generation Xers, Baby Boomers, and seniors. NAHB research analyst Rose Quint spotlights priority features, cohort by cohort in this post. Quint writes,
"So what features do most buyers consider essential/desirable in a potential new home? Answer: those that help them save energy and keep the home organized. ENERGY STAR® appliances and windows, insulation higher than required by code, a laundry room, garage storage, and a walk-in pantry are features that would positively influence the purchase decision of 80% or more of all home buyers. Also high on buyers' most wanted list are exterior lighting, a patio, a full bath on the main level, and hardwood on the main level of the home.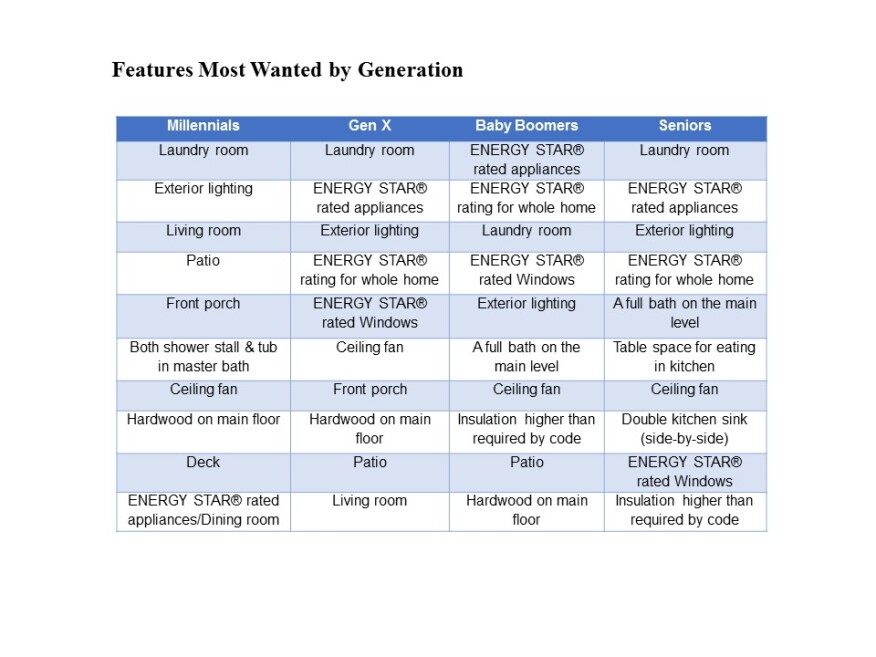 There are some similarities and some differences in the "Most Wanted List" across generations. For example, the laundry room is key to all home buyers, ranking as the first most wanted feature among Millennials, Gen X'ers, and Seniors, and third among Boomers. Exterior lighting and ceiling fans are also important to all buyers, appearing on the top 10 list of all generations."

Read more >