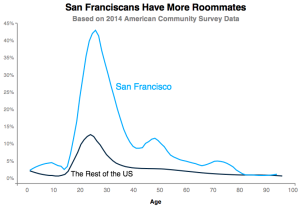 It's no surprise that millennials are delaying home ownership thanks to increased urbanization, lower marriage rates, and high housing prices. But, in addition to the percentage of Gen Y that's crashing with mom and dad, a lot of young people live with roommates to lower housing costs, according to Dan Kopf at Priceonomics.
At what age do people live with roommates, and in which areas of the country do living situations most resemble an episode of Friends?
According to data from the 2014 American Community Survey, 7.7% of Americans live with a roommate. The likelihood of someone having a roommate peaks at age 21, when the rate is at 14%, since many Americans are finished with schooling but not yet coupled up.
In general, the twenties are the pinnacle of roommate living. Across cities, though, there is a wide variation in the percentage of people who live with a roommate at various ages. We analyzed the fifty largest cities in the United States for which the 2014 American Community Survey lists data to find where people between the ages of 18 and 39 are most likely to have a roommate.
San Francisco is the roommate capital of the United States. The nation's highest rents lead young people here to live together at a rate that is more than double the average of the top 50 cities (12%), and 20% higher than second place Arlington, Virginia. Most of the top cities on the list are relatively expensive cities that are appealing to collegians and recent graduates for a variety of ambitions: San Francisco for tech, Washington DC and Arlington for politics, Minneapolis and Pittsburgh for education, and Portland for early "retirement."
Read more >