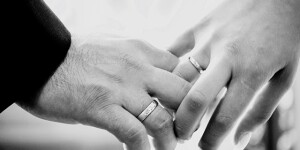 While only about half of first marriages in the U.S. are likely to survive at least 20 years, that's not the case for college-educated women, according to researchers at the National Center for Health Statistics cited by the Pew Research Center.
The research indicated that an estimated 78% of college-educated women who married for the first time between 2006 and 2010 could expect their marriages to last at least 20 years. But among women who have a high school education or less, the share is only 40%.
The findings are yet further evidence of the marriage gap in the U.S. along educational lines. College-educated adults are more likely to be married than less-educated adults. Among those who were ages 25 and older in 2014, 65% of those with a bachelor's degree or more were married, compared with 53% of adults with less education, according to a Pew Research Center analysis.

Read more >