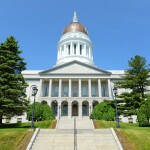 As solar has grown exponentially the last several years, net metering programs are becoming outdated for the amount of energy being returned to the system. Several states have seen changes to net metering laws, or dissolution of them entirely. Maine appears to be next as Maine utilities, solar installers, advocates and environmentalists are backing a new bill that would replace the current net metering law with a 'pay for production' program.
Under the new bill, Central Maine Power and Emera, Maine's regulated utilities, would purchase and aggregate solar generation from private solar owners and utility-scale developers under long-term contracts. They would then bid the generation into New England electricity markets in one of the first such fleet aggregations of smaller-scale solar.
Key to this bill is the fact that a number of solar installers and renewable energy advocates have indicated support for the plan. However, The Alliance for Solar Choice (TASC) told Utility Dive it would like to see net metering kept in place until the untested policy proves viable to support solar growth.
Current net metering customers have the option of keeping their net metering agreement for next 12 years or opting into the new policy for a longer term. If the bill is passed, the Maine PUC will monitor the program and review it after 18 months or 21 MW, whichever comes first.
Read more >