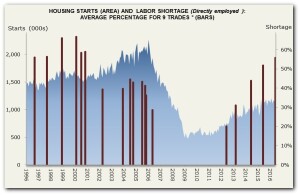 The National Association of Home Builders Eye on Housing was out Tuesday with a new survey of single-family builders that found the share of builders who report shortages of labor and subcontractors in 9 key trades has climbed steadily from a low of 21% in 2012, to 46% in 2014, to 52% in 2015, to 56% today.
The current labor shortage seems particularly severe relative to housing starts, which still have only partially recovered from the 2007-2009 downturn, to an annual rate of about 1.1 million.
The shortages are also particularly severe for basic skills like carpentry, which are needed during the construction of any home. For example, in the 2016 survey, 72% of builders reported a shortage (either serious or some) of construction workers willing and able to do rough carpentry.
For every one of the 12 trades covered in the 2016 survey (the 12 categories were recommended by the Home Builders Institute), more builders reported a shortage of subcontractors than reported a shortage of labor they employ directly.
For example, 78% of builders reported a shortage (either serious or some) of rough carpentry subcontractors, compared to 72% who reported a shortage of rough carpenters they directly employ; 67% reported a shortage of bricklayer/masonry subcontractors, compared to 57% for bricklayers and masons they directly employ; and so on.
As a previous study has shown, on the typical single-family home, three-quarters of the construction work is done by subcontractors. A shortage of subcontractors can therefore be very serious, and ignoring it gives an incomplete picture of the problem's severity.

Read more >