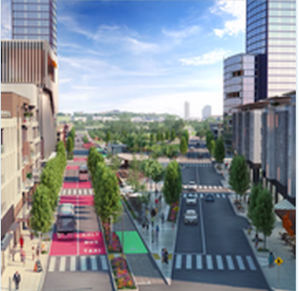 Lennar Urban announced that it has won approval for updated development plans for Candlestick Point, site of the now-demolished Candlestick Park stadium.
San Francisco's Commission on Community Investment and Infrastructure (OCII Commission) and the San Francisco Planning Commission unanimously approved the amended plans, which include an urban retail shopping district, a new film arts center and more than 2,200 homes, with direct access to parks, open space and the bay waterfront.
"This is another important step toward the creation of a vibrant retail and entertainment community,'' said Kofi Bonner, President of Lennar Urban, master developer of Candlestick Point and the adjacent San Francisco Shipyard. "The future of Candlestick Point is beginning to take shape.''
The San Francisco Shipyard and Candlestick Point community is the largest development in San Francisco since the 1906 earthquake. It is an $8 billion, 775-acre mixed-use development that is transforming a former military base and former football stadium into a thriving community of more than 25,000 residents in San Francisco's long-neglected southeast corner. The entire development envisions 12,000 homes, with nearly one in three affordable. It will include both regional and neighborhood retail, along with a hotel and office space. More than 350 acres will be open space and parks. As part of the plan, the Alice Griffith public housing development is being completely rebuilt with no dislocation of existing residents.
Read more >