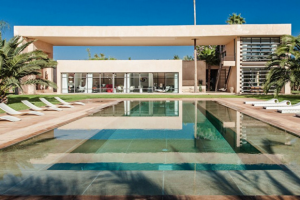 Architectural Digest's Jennifer Tzeses reports the striking Marrakech villa that was used as the home of James Bond's nemesis in the latest film in the 007 franchise, Spectre, has hit the market for $4.3 million.
Designed by Algerian architect Imaad Rahmouni in a contemporary, open-floorplan style, the two-level, three-bedroom villa features large, framed windows that offer sweeping views of its gardens. The glass, metal, and concrete structure that serves as the lair of villain Ernst Stavro Blofeld appears almost unrecognizable in the listing, as the real-life, lush greenery that frames the home was carefully edited to resemble a dustier desert location.
There is also a large study, a modern kitchen, a fitness room, and two bedrooms on the first floor. The master bedroom suite occupies the entire second floor and has a private terrace. The five-acre lot includes a spacious pool and a 2,600-square-foot guesthouse with its own kitchen, three bedrooms, and a living room that opens onto a smaller pool.
Read more >