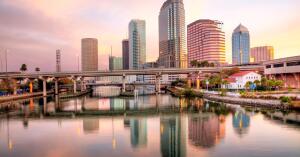 Home sales in Tampa Bay dropped 1.7% in November compared to November 2014, according to Diana Olick of CNBC, most likely due to fewer homes hitting the market.
Inventory declined 7%, according to the Greater Tampa Association of Realtors. "We've got a considerable lack of inventory which caused the lack of sales," said Andrew Duncan, a real estate agent at RE/MAX Dynamic. "I think we'll see a big ramp up in the start of 2016, with continued low interest rates but the prospect of higher interest rates."
With fewer homes for sale, prices jumped. The median price of a home sold in November was $210,000, a 20% increase from a year ago. Tampa was one of the hardest hit areas during the foreclosure crisis, with thousands of distressed properties hitting the market; it still ranks as No. 10 on the list of top metropolitan market foreclosure rates, according to RealtyTrac, but the numbers are much improved from the worst of the crisis.

Read more >