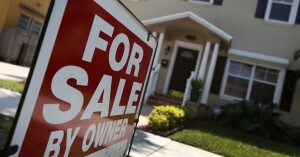 CNBC's Diana Olick looks through RealtyTrac's latest home-flipping data which shows that while the number of foreclosures and other distressed homes are drying up, the profits realized by today's flippers can still be quite high.
The amount of homes flipped increased 18% year-over-year in the third quarter, while gross profit moved higher.
"Investors are finding creative ways to pinpoint potential flips in the off-market arena, and on the disposition side investors have a bigger pool of potential buyers thanks to a surge in FHA buyers this year, many of them first-time buyers looking for starter homes," said Daren Blomquist, vice president at RealtyTrac, a foreclosure listing and analytics company.
Olick profiles a flipper in California's Inland Empire named Doug Van Soest who has taken up a new strategy. Instead of buying foreclosures from local listing services--which are harder and harder to find--he goes directly to the potential seller:
" ... We started mailing directly to homeowners to see if they're interested in selling," said Van Soest, who flips 30-50 properties a year, mostly priced under $300,000.
He targets several different categories, using real estate databases and new real estate apps. He started mailing to small-scale landlords who don't live near the homes they rent out. The hope being that they might be tired of dealing with the property management and just want to get out. He is also going after potential sellers who are not on the market.
Read more >