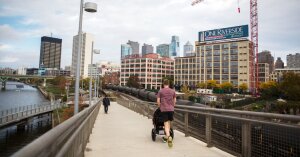 The New York Times' Robert Strauss looks at the growing trend of wealthy suburbanites drawn like moths back to the bright lights of city centers, as many baby boomers take their downsizing from the outskirts to urban condos.
The article profiles One Riverside, a 22-story luxury condo deal being built in Philadelphia, just the latest in a string of new high-profile condo projects in the city. And sales have been robust: In the third quarter, there were 34 condo sales of more than $1 million in the city, a new record.
While $100 million Manhattan condos are the talk of high-end urban real estate, Philadelphia's experience is being repeated in a quieter way all over the country, according to figures from the National Association of Realtors. Residential sales of $1 million or more in downtown sections of cities have been 2.2 percent of sales since 2013, compared with 1.8 percent in the 2009-12 period.
"Things just lined up in the last few years," said Patrick L. Phillips, the global chief executive of the Urban Land Institute, a research organization in Washington. "The peak of the baby boom is right around 60 and these wealthy folks have a lot of embedded equity in their homes. They have the wherewithal to move into something with space in the city."
Read more >