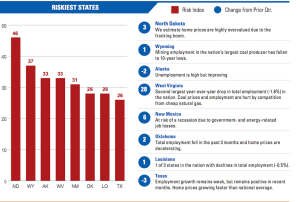 Here's a deep-dive analysis of how "energy patch" states, whose economies are sensitive to coal, oil- or gas production volatility in the global markets, could be impacted in their housing trends over the next two years.
The study comes from Arch MI, a mortgage insurance organization, and it paints a broadly encouraging picture for house prices, home construction trends, and employment in the industry, with specific exceptions around the "energy patch" locations. The Arch MI report notes:
Most Energy Patch states will experience slower economic and home price growth and a few areas may even see outright home price declines.
Read more >