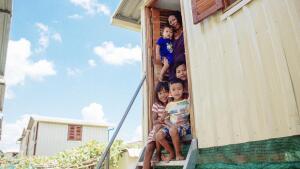 After sitting on a plane next to the founder of Toms Shoes, which started a buy-a-pair, give-a-pair business model, Pete Dupuis and Sid Landolt wondered if the same model couldn't work with housing.
In 2013, the pair founded World Housing, a nonprofit that builds small factories where homes can be constructed in developing countries. Companies that pair with them simply donate a portion of their marketing budget to their efforts.
Vancouver, British Columbia-based Bosa Development is now building a 41-story condo building in San Diego, called Pacific Gate, and will be partnering with World Housing. The building will fund 64 homes that will house 300 people in Manila.
Each home, which can cost about $5,000 in a place like Manila, is part of a bigger neighborhood with a playground, community garden, and other common areas. "Our mission at World Housing is to create social change by connecting the world to be a better community, so the idea of 'community' is foundational to how we think, design, and create our homes," says Dupuis.

Read more >