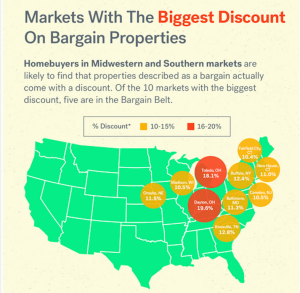 The B-word–bargain–gets thrown around a lot in the real estate world. Buyers are looking for one, and sellers often use the term to market their home. But talk is cheap.
So, Trulia researchers combed through all the homes for sale on Trulia in the 100 largest housing markets to find out where properties listed with the word bargain, or similar words, are actually priced at a discount. Trulia economist Ralph McLaughlin cites these as the topline take-aways from the data drill-down:
Homes listed for sale with the term "bargain" (or similar) in their description are offered for a lower price compared to other listings without such terms, in only 55 of the largest 100 U.S. housing markets;
Markets with the largest discount on bargain properties are in the Bargain Belt, where markdowns range from 10-20%;
Markets with the smallest discount on bargain properties are mostly along the Costly Coasts, where price cuts range from just 2-4%.

The real excitement, though, comes with a ranking: Top 10 Housing Markets with Largest Discount on Bargain Properties. Have a look.
Read more >