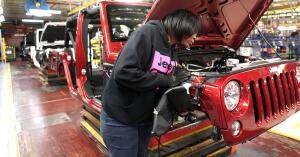 Home building, it turns out, was one of few bright spots in the U.S. economic picture in the first quarter. CNBC, via Reuters, reports:
U.S. economic growth slowed in the first quarter although not as sharply as initially thought, amid a surge in spending on home building and a steady increase in inventory investment by businesses.
Gross domestic product rose at a 0.8 percent annual rate as opposed to the 0.5 percent pace reported last month, the Commerce Department said in its second GDP estimate on Friday. It was the weakest performance since the first quarter of 2015.
Spending on residential construction increased at a 17.1 percent rate in the first quarter, the fastest pace since the fourth quarter of 2012. It was previously reported to have increased at a rate of 14.8 percent.
Read more >