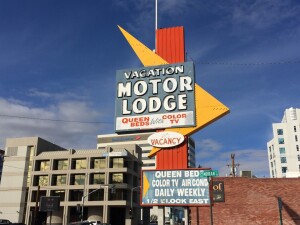 Thanks to Tesla and Apple, the city of Reno, Nev., and its environs have benefited from a technology boom, magnifying a flourishing local economy, huge population inflows, and a strong job market. Economic success, exciting though it may be, doesn't come without its price. The Atlantic staffer Emily Deruy probes into the topic, noting that surfacing as one of the big issues is the decline of affordable housing. Deruy writes,
"Northern Nevada is expected to add around 50,000 jobs between 2014 and 2019, according to a report by the Economic Planning Indicator Committee. And all those workers are going to need a place to live: The head of the Economic Development Authority of Western Nevada has said he thinks the region will require an additional 5,000 homes per year. But Reno isn't on track to meet that demand, and, as a result, home prices are rising. Average rent in Reno is up to almost $1,000 from around $800 three years ago. And while such prices are unlikely to faze the tech workers the city hopes to attract, they do pose a problem for many long-time residents who aren't positioned to take advantage of the economic growth happening around them.
While the influx of Tesla and other companies will mean higher wages for some, most residents aren't likely to see a significant spike in pay. Fewer than a third of adults have a bachelor's degree, and the public school system is among the worst in the country. The unemployment rate is 5.5 percent in the Reno-Sparks area, more than half a point higher than the national average. Median household income in Reno is less than $47,000, and the poverty rate is 18.6 percent, three-and-a-half points higher than the national average. A recent survey of homes for sale in the area by the Reno Gazette-Journal found just 200 affordable homes (defined as priced at or below $225,000) on the market, compared to 2,600 in 2011."
Read more >