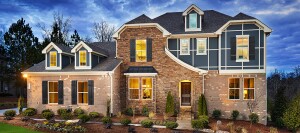 Meritage Homes wrapped up a successful 2015 with double-digit growth in closings, orders, and backlog. A strong fourth quarter helped feed that growth. Among the quarter's highlights:
Net earnings increased 7% to $52.9 million ($1.26 per diluted share) for the fourth quarter of 2015, compared to prior year net earnings of $49.2 million ($1.19 per diluted share), primarily reflecting increased revenue and lower overhead expenses as a percentage of revenue, partially offset by lower home closing gross margin, higher interest expense and a higher effective tax rate.
Home closing revenue increased 11% due to a 3% increase in home closings, combined with an 8% increase in average price over the prior year period. The west region (California, Colorado and Arizona) grew home closing revenue by 27% over 2014, followed by the east region's 18% increase (Florida, the Carolinas, Georgia and Tennessee), and a 14% decrease in the central region (Texas) due in part to the impact of lower oil prices on the Houston market.
Total value of homes ordered increased 29%, combining a 23% increase in orders with a 5% increase in average sales prices. Orders increased in every state but Colorado, where average community count was down 6%. Total order value was up across the board in the fourth quarter of 2015, including Texas, where orders and order value increased 16% and 29%, respectively, over the fourth quarter of 2014.
Total active community count of 254 at year-end 2015 was 11% higher than 2014 year-end, with increases concentrated in the east and central regions, where the average actively selling communities were up 18% and 15% year-over-year in the fourth quarter, respectively. Average orders per community also increased 11% to 6.2 in the fourth quarter of 2015 from 5.6 in the fourth quarter of 2014.
After earnings were reported, KBW's Jade J. Rahmani seemed optimistic about the builder's propsects. Operating earnings were ahead of our forecast on a mix of factors. We view the strong order growth positively, and the company's initial 2016 guidance appears in line with our expectations.
Read more >