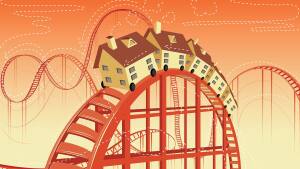 Why does the what the Federal Reserve does about its lending rates, and what happens to mortgage interest rates as a result, matter?
As Realtor.com chief economist Jonathan Smoke notes, more than four out of five home purchases in the United States are financed with a mortgage, at least in 2015. As "the credit box" creaks open to include a few more would-be home buyers, that number should only increase. However, that's conditioned on whether those would-be home buyers can still leverage dirt-cheap interest rates in their monthly payment math. Smoke writes:
As we enter the peak spring buying season, it'll be even more critical to follow the movements of mortgage rates. Buyers who think those rates aren't moving might have a rude awakening when they realize the recent trend upward. Since Feb. 11, the average 30-year fixed rate has increased almost 20 basis points. That translates into a reduction of buying power by over 2%.
For potential buyers, these rate movements can be nerve-wracking. A 10 basis–point difference in a rate on a mortgage, with all other factors remaining the same, will produce a 1.2% difference on the monthly payment. Of course that affects not just your monthly budget, but also your debt-to-income ratio, which is a critical factor in qualifying for a mortgage.
Now, check out the Smoke signals as to what may transpire next, given various economic scenarios.
Read more >