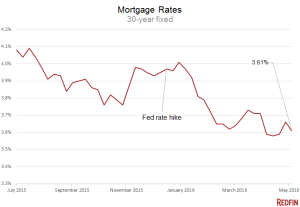 Redfin's Lorraine Woellert reports mortgage rates on an average 30-year fixed loan fell to 3.61% this week, which is down from 3.66% last week.
Rates have held just below 4% all year, and since March, they've been trending even lower. According to Freddie Mac, the same 30-year, fixed mortgage rate averaged 3.8% one year ago.
Home loans have been getting cheaper since December, when the Federal Reserve raised its benchmark rate on short-term loans. Fed Chair Janet Yellen and her team left that rate unchanged at their meeting last month.
"The Fed's decision to stand pat followed by a week of assorted unsettling news drove Treasury yields lower," Freddie chief economist Sean Becketti said. "Since the start of February, mortgage rates have varied within a narrow range, providing an extended period for house hunters to take advantage."

Read more >