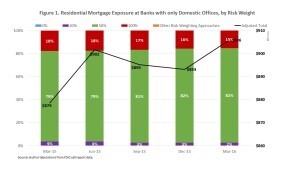 Eye on Housing's Michael Neal reports that the outstanding amount of housing-related debt (of both home mortgages and equity lines of credit) totaled $8.8 trillion in the second quarter of 2016, according to the Household Debt and Credit Report released by the Federal Reserve Bank of New York.
That number is 2.6%, or $225 billion, greater than the level from one year ago. However, the outstanding amount of home equity lines of credit declined by 4.2% ($225 billion) greater than the level one from last year marking the 26th consecutive quarter of annual declines.
Over this period, HELOCs have shrunk by 32.3%. In contrast, home mortgage debt rose over the year by 3.0%, $246 billion. The second quarter of 2016 marks the 11th consecutive quarter of annual growth. Over this period home mortgage debt has risen by 5.9%, but remains 10.0% below its pre-recession peak level.

Read more >