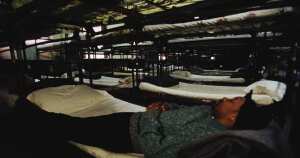 The number of people sleeping in New York City homeless shelters officially hit 59,948 individuals in 600 shelters last Wednesday night - a record high for the city.
That total has risen from 50,689 since 2014 and from 57,600 last spring. Of the nearly 60,000 people sleeping in homeless shelters, an estimated 23,600 are children.
Speaking to the Journal, Social Services Commissioner Steve Banks blamed the recent rise in homelessness on the fact that previous city governments had not provided these services, saying, "My frustration is that the kinds of common sense investments that we've made in prevention and rental assistance were not made 20 years ago when this trajectory began."
Indeed, the homeless population grew significantly over the 12-year mayoralty of de Blasio's predecessor Michael Bloomberg, particularly after the city closed the $140 million Advantage rent-subsidy program when Albany cut funding for it in 2011. The Department of Homeless Services budget is set at $1.3 billion for this year, up from $1 billion in Bloomberg's last year in office.
Read more >