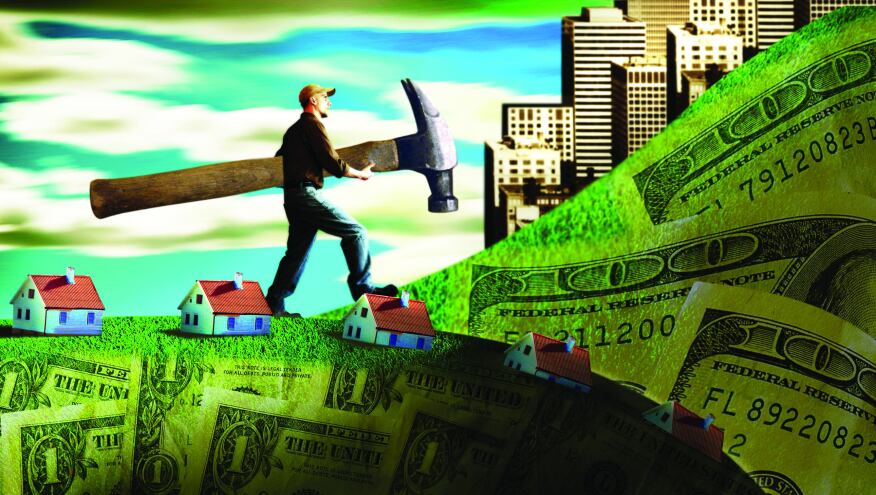 Home building has been in a recession since late 2005, and the economic uncertainty surrounding the industry will continue for another 12 months at the very least, most experts say.
Home builders, who are seeing less traffic, fewer sales, and more cancellations with each passing month, are in desperate need of cash to maintain their operations, and they're not getting the money they need from building and trying to sell homes.
Now some home building consultants are telling their cash-needy builder clients to try their hands at commercial construction, which has been doing better than residential construction.
But nonresidential construction activity may be waning, too, says the American Institute of Architects (AIA) in its semi-annual Consensus Construction Forecast. Tying an expected weakening in nonresidential construction to the faltering U.S. economy, the AIA expects nonresidential construction activity to increase just 0.7 percent in 2008; and "a slight decrease in activity is actually expected in 2009," says AIA chief economist Kermit Baker in a statement.
According to its forecast, the AIA believes institutional projects will be the driver of growth, while commercial construction projects are likely to see the greatest decrease in activity.
Still, Steve Maltzman, president and founder of SMA Consulting in Redlands, Calif., feels the present can be a good time for builders to delve into nonresidential construction, especially as builders lay off employees to cut costs; they may hit a level of staffing where cutting more employees would mean sacrificing the stars of the company, Maltzman says.
"I don't see any problem for diversifying at this stage in the game, whether it be today or tomorrow," he says. "If they want to keep their team together, they need to take a look at how they can supplement their operating income."
Will Build For Money
Any size builder can get involved with the right nonresidential construction project, Maltzman says. But builders should know what they are getting into and have subject experts on staff.
"You get production builders who try and get their superintendents to run a remodeling job where you've got the customer around, and that is a whole different ball game," Maltzman offers as an example.
The key to getting into a new line of construction is knowledge.
"They have to truly understand the market. Just like they do market research before they get into new [home building] projects, they have to do market research for this," he says.
Part of that effort would be to find out if a certain project makes sense in a specific market and if the builder has the capability to carry the project out. Size should not be a limiting factor as no critical mass must be reached before a builder can dip its toe into commercial construction, says John Burns, president and founder of John Burns Real Estate Consulting in Irvine, Calif.
Maltzman says he has advised a number of small builders who are now doing small commercial projects, which helps diversify their businesses, keeps cash coming in, and protects the builders against residential construction downturns.
"It depends on the type of commercial. A small builder can't do a sewage treatment plant; but even a big builder, unless they have a lot of expertise, it's going to be tough for them to do that," Maltzman says. "Light commercial, retail, stuff like that—any size builder can probably get in."
Often times, the only start-up costs are marketing a company not known for commercial work to potential clients, Maltzman says. But, some types of commercial work require the builder to get bonded, and if they are already in financial straits, that might be tough to accomplish, he says. Builders may also be required to place bids on a project, a business model that could be new to them.
Bad Timing?
Not everyone agrees that now is a good time to get into nonresidential construction, especially with the economy teetering on the brink of recession.
"The timing is not good," Burns says. "There's better than a 50/50 chance we're heading into recession, and all commercial properties are healthy when the economy is good and not healthy when the economy is bad. You're going to see a lot of the tenants that are currently in retail centers go under."
Office and apartment projects might be okay to try, Burns says, noting, though, that both are tied to job growth, and most economists project employment growth to falter and unemployment to increase in 2008.
By and large, for a home builder, diversifying operations to include some nonresidential construction jobs is a sound strategy, and builders should start thinking about working toward that opportunity for when the construction market rebounds, Burns says.
"I would suggest people do that in the future, but I would wait for the right time," he says. "The commercial real estate market is in the first or second inning of a downturn. It will come back after residential."
Even Maltzman concedes that not all nonresidential projects are good ideas now, noting that he would not get involved in property management, buying apartment buildings, or other business lines that require large capital outlays.
Whether builders dive into commercial projects now or later, the bottom line is they need to have done a lot of research into how to go about it and make sure they have the right personnel to execute the project when the time comes.
"You're starting anew and competing against people who have been around for a while. It comes back to: Do you have people in-house that understand that part of the business?" says Maltzman.—