Is homeownership still part of the American dream? Financial restraints aside, millennials and entry-level buyers still aspire to buy a home, but whether they can afford a home largely depends on where they choose to buy.
Location is key, as home price, property tax, and income levels ebb and flow by ZIP code. But there can be a tricky balance—you want to buy where the home price is low, but you don't want weakened earning power, so you need to find where you can spend the least to afford your most desired home.
We've analyzed the median monthly housing cost for homeowners as a percentage of household income in all states, excluding the Virgin Islands, to narrow down (at least by state) where homeownership is easiest on the wallet. Owners with or without a mortgage are both considered. Housing costs include mortgage payments, property taxes, insurance, utilities, and other housing expenses. Our data comes from Metrostudy and the 2014 American Community Survey.

It is widely accepted that people should spend no more than 28% of income on housing costs, so we've based our analysis on that rule. It's great news that all states have kept up with that standard, but when it comes to housing payments, of course, less is better.
It turns out buying homes in North Dakota is the best deal, while New Jersey tends to eat up the biggest bulk of its homeowners' income. Read on for the full list of the five best and worst states to live in for home costs.
People in these five states spend the least amount of household income on monthly housing costs:
1. North Dakota
North Dakota ranks at the top of our list, as homeowners spend only 14% of household income on housing. This is especially notable because housing in North Dakota isn't that cheap—the median new-home price so far in 2015 has reached $335,972, exceeding the median in 27 other states. But North Dakotans still feel the least home-buying pressure with last year's median household income of $59,029, beating the national average by around $6,000. The average effective property tax rate in North Dakota is 1.34% as of 2013, according to Smart Asset, a financial analysis company that aggregates data from various government agencies.


2. West Virginia
West Virginia comes in second, as monthly housing costs account for only 14.1% of household income. West Virginians are able to spend the majority of their income on other things like food, transportation, entertainment, and education. While the median home price is among the nation's lowest at $266,701, West Virginia residents make a median household income of $52,622, which is pretty close to the national average. They pay an average effective property tax rate at 0.59%—the seventh lowest across the nation.

3. Louisiana
Only 15.5% of household income is spent on median monthly housing costs in Louisiana, leaving residents with plenty of disposable income. Homeowners in Louisiana pay an average property rate of 0.46%, the third lowest of any U.S. state, which helps cut down on housing costs to a certain degree. Although Louisiana's median household income is the eighth lowest across the nation, it doesn't affect home affordability as the state's median home price ranks third-lowest in the nation at $249,498, according to data from Metrostudy.

4. Oklahoma
For Oklahoma homeowners, about 16.2% of household income is used to pay monthly housing expenses. As of 2013, median household income falls slightly shy of $48,000, which is roughly $5,000 below the national level. But the pay doesn't seem so bad in comparison with Oklahoma's low median home price—the sixth lowest among all states at $255,805—and an average effective property tax rate of 0.64% as of 2013. Among all Oklahoma counties, Pushmataha County charges the lowest rate at only 0.41%. When it comes to items as pricy as a home, even the slightest change in tax rates can make a huge difference for buyers.

5. Arkansas
Arkansas lost to Oklahoma by 0.1% in our rank, with the median monthly housing cost taking up 16.3% of the household income. With the eighth-lowest average property tax rate of 0.60%, Arkansas has a median household income of $41,262. The downside of lower income earnings has been mostly offset by Arkansas' low home prices, however. The cheapest home market among all states, Arkansas' median home price in 2015 thus far is $225,154.
People in these five states spend the greatest amount of household income on monthly housing costs:

1. New Jersey
With 23.6% of household income spent on housing every month, New Jersey homeowners have the tightest budget compared with others, even though they earned the second-highest median household income of $71,919 in 2014. As a home base for in-state residents and a bedroom community state for a considerable number of New York City professionals, New Jersey has seen its median home price soar to the nation's fifth most expensive in 2015, at $498,649. The average property tax rate in the state is 2.19% as of 2013, compared with the national average of 1.19%.

2. California
As one of the most popular destinations for immigrants, the state of California remains the nation's most populous state, as well as one of the most expensive housing markets. Median monthly housing costs account for 22.5% of Californians' household income, which was $61,933 last year. It is the third most expensive housing market, second only to Hawaii and New York, with a median home price of $583,287.

3. Rhode Island
A summer getaway destination, Rhode Island comes in at No. 18 for median home price at $361,638. Unfortunately, homeowners don't have income earnings high enough to match the state's property prices. In fact, Rhode Island residents made a median household income of only $45,238 last year, the nation's eighth lowest. In addition, the state has the 10th highest average property tax across the country, at 1.55%, exceeding the national average by more than 30%.

4. Connecticut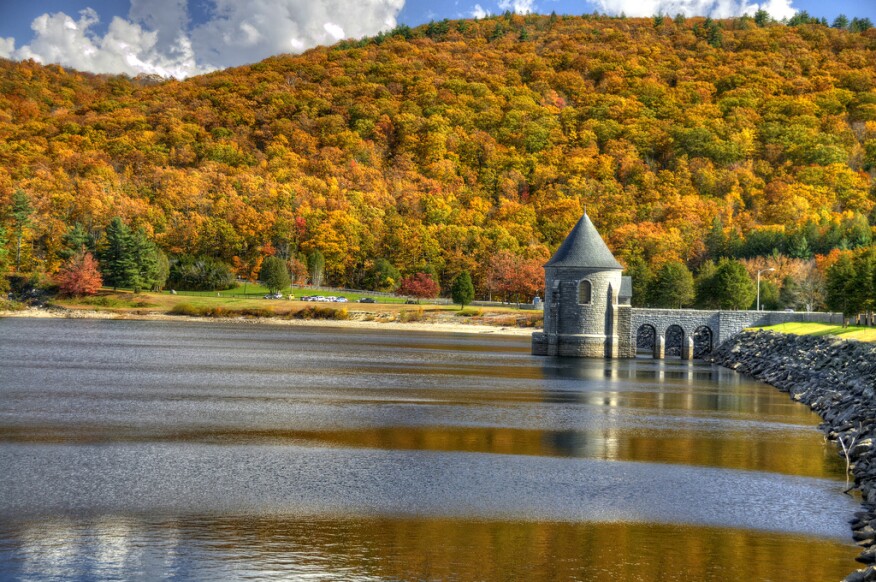 The state of Connecticut is better off than most other states in terms of employee wages, with a median household income of $70,048. But owning a home costs as much as 22% of the monthly income for a median household, with a high median home price of $495,454—the nation's sixth most expensive. On average, Connecticut homeowners pay 1.83% in property taxes, which is higher than most other states.

5. Vermont & New Hampshire
Vermont and New Hampshire are tied for the bottom ranking in our list, with 21.9% of median monthly household income spent on housing. Both states had a higher-than-average median household income in 2014 at $64,902 and $66,532, respectively. The median home price in Vermont has approached $436,962 this year, and $369,057 in New Hampshire.
In addition, both places are among the most expensive states in the country for property tax rates. Vermont charges home buyers a 1.69% property tax on average. Although there's neither sales tax nor personal income tax in New Hampshire, the state has the third-highest average property tax rate at 2.05%.