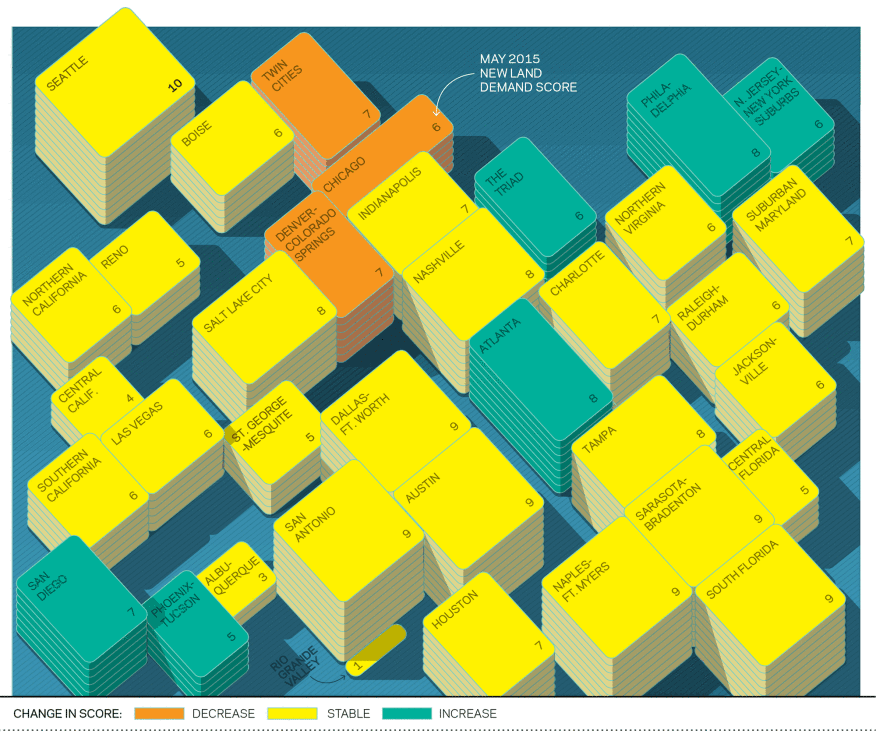 As we cross the mid-point of the year, what you may be most interested in as buyers and sellers of land, lots, and the homes that get built on them, centers as much on the question of location as on volume. If you understand where there's demand or changing demand for home sites, you might be able to detect whether the market is likely to move in any dramatic way toward serving the lower-price tiers, which may be 2015's biggest question in housing.
Let's look at what Metrostudy regional directors have been observing as "demand indicators" in their respective geographies. Each month, BUILDER polls the directors, asking them to rank—on a subjective scale of 1-to-10—the intensity of demand for lots and homes.
Normally, we assume that knowing the intensity of demand might be helpful to discern whether our housing recovery is on track. In the past year we've learned that both lot demand and home demand intensities have been greatest in the finished "A" lot category, where builders were turning their pipeline of early-recovery home sites into move-up, second-time move-up, and luxury home sales.
This jibes with both new-home price trends and housing size characteristics, which reflect a heavier-than-average focus on the upper tiers of the price spectrum. Metrostudy commentary tells us that, while demand for home sites has sustained itself at a positive level over the past few months, only a few outlier markets—namely Seattle and Denver—consistently have scored above par in lot demand.
The question is how and when builders will meet the lower-price tier of new-home demand that has built up since the market crash in 2008. For pre-indicators, we can assume scores over the mid-point of 5 indicate above-par lot-demand activity. The issue is bringing new lots online that are priced and located to support entry-level homes and neighborhoods.
From a land strategy standpoint, many builders have jumped when they can snatch a good land deal that fits their product portfolio. But mostly they're monetizing their current land holdings, hoping prices will ease as more finished lot inventory comes online.
Fierce Competition

While lot supply may exceed demand in submarkets of Central California and the Rio Grande Valley of Texas, and plenty of existing lots are in play in Indianapolis, the regional directors haven't changed their views on lot demand: Supply is constrained, prices are high in prime locations, and builders and developers are all competing for the same lots.
Despite a high reading of "8" in the Denver market for the past three months, regional director John Covert reports that lot demand there has checked up a bit during May, and lot deliveries are now outpacing starts. "Lots that builders acquired over the last 36 months are finally hitting the market with new stores," he adds, "so demand has leveled off somewhat."
Securing Land—and Funding

Finance is a hurdle builders need to jump to secure lots when they're scarce and overpriced, but while the value of residential construction loans has grown over the past two years, there is more activity than FDIC's data shows. Builders report in a recent survey by the NAHB that construction lending conditions have improved, but this isn't reflected in first-quarter data from the FDIC. This likely is because many builders are outsourcing land development loans to non-FDIC insured institutions or private lenders, in lieu of an AD&C loan.
This could be the case in the New Jersey/New York suburbs, where there's limited land and high demand for the same land by multiple builders and developers. If securing an AD&C loan takes longer than circumventing the FDIC, then it's clear why builders are trying other alternatives to get the best land.
Builders and developers also are approaching lot acquisition differently in the Phoenix-Tucson market. "We are seeing more builders looking at raw land and finishing it themselves," says regional director Rachel Cantor. "We are also seeing builders shy away from master planned communities to look for the 'diamond in the rough' where they can create their own MPC, and possibly sell off lots."
Awaiting the Inflection

Despite signs of recovery, Metrostudy has reported a slowdown in starts during May, so next month's release may be disappointing in contrast to April's record-breaking numbers.
Southern California's regional director Dennis Handler notes a slowdown in the first quarter as new construction annual starts and closings have begun to "teeter down"; annual starts in San Diego have dropped 7.8% from 2014's fourth quarter to 2,188 in 2015's first quarter.
In Nevada and Utah, the St. George-Mesquite market is still experiencing a dip in starts and closings as it has for the past few quarters, and starts in Albuquerque have been "essentially flat for five years," Covert says.
A tight supply of existing homes, rising rental rates, and sustained job growth have brought more buyers to the new-home market, but pricing growth and 4.8 months of new-home inventory still paint a picture of an unbalanced market. The question remains: When will the real move toward serving lower-price tier new home buyers get underway?