Metrostudy's 2Q16 survey of the Tampa housing market shows that 2,034 single-family units were started in the quarter, a 1.9% increase from 2Q15. The annual rate of 8,191 starts showed a 24.2% increase compared to last year. Single-family quarterly closings totaled 1,855 units, 8.6% higher than 2Q15. The annual closings rate was 7,277 units, 21.2% above the annual closings rate for the twelve months ended 2Q15.
"The 2Q16 quarterly starts pace of 2,034 units was the second single best quarter for starts since 1Q07, closely following the strong performance of 2,097 starts last quarter," said Tony Polito, Director of Metrostudy's Tampa market. "The quarterly closing rate of 1,855 units was up by 10.4% from the prior quarter but was 160 units lower than 4Q15, our best post-recession result. Metrostudy anticipates demand should continue to grow, although not at 2003–2006 levels. Competition, especially at the low end, comes from apartments. Townhomes are an attractive alternative to renting and there was a 54.4% increase in the annual starts pace for townhomes during 2Q16 versus 2Q15, up from 890 annual units to 1,374 units."
For the twelve months ending June 2016, annual new home starts in price ranges under $200K totaled 1,766 units, up 9% from 2Q15. New home starts in prices over $200K grew by 29.2% to 6,425 units as of 2Q16 compared to 2Q15. The marginal 1,598-unit increase in the annual start pace was split: 145 more units under $200K and 1,453 more units above $200K.
Annual Starts by Price Range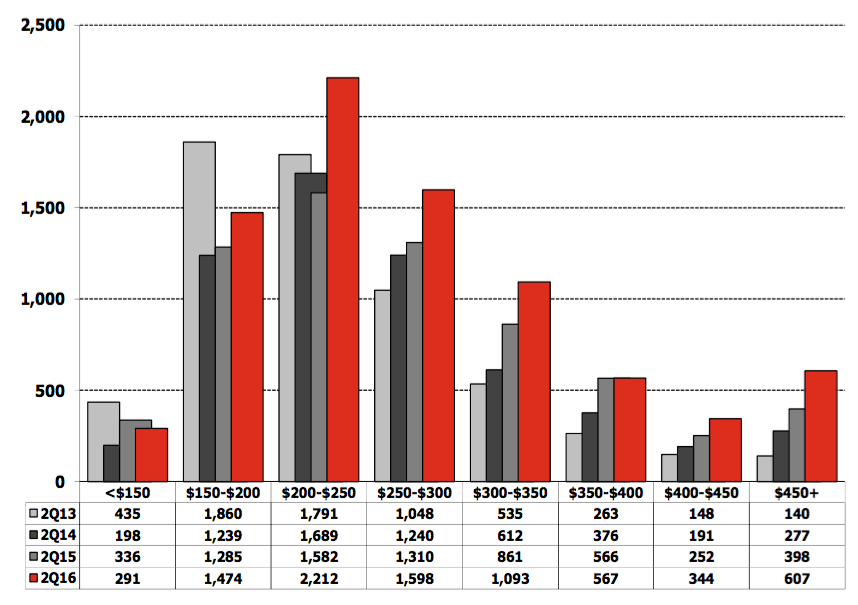 In 2Q16, total single-family inventory – units under construction, finished vacant and models – equaled 4,647 units on the ground, a 7.7-month supply. Inventories grew by 24.5% compared to 2Q15. Compared to last year, the number of units under construction rose by 677 homes to 2,899 homes. Finished vacant inventory increased by 16.2% from 1,122 units last year to 1,304 this year. Compared to a year ago, the FV months of supply held steady at 2.2 months. However, the number of move-ins exceeded completions during the quarter and FV inventory fell by 24 units versus 1Q16 but months of supply was steady 2.2 months.
Under Construction and Finished Vacant Inventory
Hillsborough County remained the most active county within the Tampa market with 4,926 annual starts. Hillsborough gained market share, up from 58% for 1Q16 to 60.1% for 2Q16. Market share in Pasco fell from 28.9% for 1Q16 to 26.8% for 2Q16, as quarterly starts decreased from 726 in 2Q15 to 580 for 2Q16. The VDL supply throughout all of Hillsborough County stood at 21.6 months as of 2Q 2016, down 8 months from 2Q15. The VDL supply in Pasco stood at 35.6 months as of June 30, 2016. One year ago Pasco had a 40.3-month supply of vacant developed lots. These two major counties accounted for 87% of all annual start activity in Tampa Bay as of 2Q 2016.
"Tampa's new housing inventory is also showing a significant trend: although the market added 111 FV units during 1Q16, FV inventory was only reduced by 24 units in 2Q16," said Polito. "The result was that Months of Supply held level at 2.2 months in June not only compared to March 2016 but also June 2015. Ideally the supply of FV units would be nearer to 1.5 months. The backlog of under construction remains strong and points to solid closing numbers in 3Q and 4Q 2016. With 2,899 units under construction, close attention should be paid to cancellation rate as this could push FV supply even higher. The good news is that long term interest rates have pushed downward this quarter and aren't expected to spike upward any time soon."
The table below ranks the top ten communities in the market by annual starts:

For further analysis of the Tampa market, contact Metrostudy regional director Tony Polito: tpolito@metrostudy.com