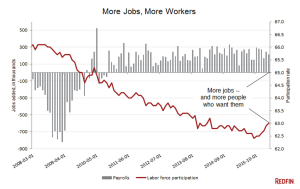 Typically, a strong jobs report from the Labor Department would suggest growing inflationary--wage-fueled--risk, which the Federal Reserve might want to stanch by making it more expensive to borrow money.
As Redfin analyst Lorraine Woellert writes, however, the particular kind of payroll growth the United States has been experiencing for the past couple of years, has not exerted a whole lot of influence on household income growth or, ultimately, broad-based inflation. So, while the news on the employment and labor force participation rates was positive in this past Friday's Labor Department release employment report, it very likely won't impact the Federal Reserve's plans to go very slowly on raising its interest rates. Woellert writes:
At the moment, Fed Chair Janet Yellen and her team at the central bank are more worried about the anemic outlook overseas. Most people are betting Fed policymakers won't raise rates when they meet later this month.
"This is another solid jobs report that is likely to have little impact on the Fed decision later this month," said Curt Long, chief economist of the National Association of Federal Credit Unions. For Yellen & Co., "concerns lie elsewhere, and the odds of an April rate hike are extremely remote."
Read more >