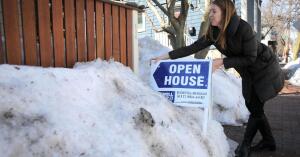 A new report from Bankrate.com reveals that almost half of people who do not own a home, believe they cannot get one due to financial constraints. CNBC staffer Jessica Dickler writes on this new report and examines the various reasons people say that homeownership isn't for them.
Some don't buy homes because they cannot afford the down payment while others are simply afraid following the Great Recession. Rising house prices and a lower inventory have changed the requirements for first time home buyers:
These days, first-time homebuyers, who are primarily in their 30s, ares pending a bigger chunk of their incomes to buy their first house — coughing up about 2.6 times their annual pay; in the 1970s, first-time homebuyers purchased homes that cost only about 1.7 times their yearly salary, according to Zillow.
Read more >