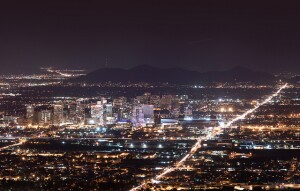 Since the 2006 peak of the housing boom, Arizona has experienced a 57% decrease in construction workers to fewer than 140,000 from 244,300. Phoenix New Times staffer Griselda Nevarez reports on the delays caused by this labor shortage, with some in the Pheonix metro hearing that their houses could take a year to be built.
While there are multiple reasons for the shortage such as people leaving Arizona during the recession, the biggest reason to some was the passage of E-Verify, which prevents undocumented immigrants from working:
E-Verify is the U.S. Department of Homeland Security's internet-based system, which compares an employee's Form I-9 information to data from Homeland Security and records from the Social Security Administration. Though the federal government doesn't require employers to use the system, in 2007 the Arizona State Legislature passed a law that does precisely that.
Read more >