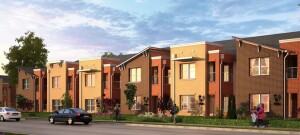 Dallas Morning News real estate editor Steve Brown reports that Sphinx Development Corp. is building the 49-unit town home project in downtown Dallas, testing the waters of demand for closer-in projects.
Brown notes that the planned townhomes will start at under $170,000 for units that start at about 1,400 square feet. He writes:
"This is an exciting opportunity for buyers looking to live near the center of the city," builder Joe Agumadu said in a statement. "We are excited to provide a cost-conscious way to do just that."
Construction of the first phase is underway with the first units to be ready this summer.
Read more >