For starters, let's be clear. When we say boomers, we're not talking about old folks. We're talking about a cohort whose most senior members will turn 69 this year.
I am a boomer, and if you're reading this, there's a decent chance that you are, too. Most of us have delayed retirement due to the 2008 recession. Lots of us don't have slowing down on our minds. Many of us are redefining what aging means. Here are other pertinent stats about this important--and under-served--wave of buyers:
--10,000 Americans daily turn 65.
--80% of boomers own their own homes—which is where their primary assets are. Those assets are rebounding post- downturn.
--25% own an additional piece of real estate.
--While boomers represent only 25% of the population, they also represent 75% of the wealth and 50% of the spending power.
--While some boomers will move to the city, over 80% will stay in single-family homes.
A Wave of Buyers With Big Decisions Ahead
So, here's the riddle. In the next five years, most of this age group is going to retire. But then, what are they going to do? The majority say that they'll age in place until they have to move. Most feel that their home is a place they can stay, despite the fact that in the majority of cases, their homes aren't age-friendly. In the Western States, most will stay within the state. On the east coast, many will leave cold climates in search of better weather. Some will be forced to sell their homes so that they can maintain the way they're accustomed to living.
An Underserved Group, A Big Opportunity
We've been talking about this age wave for years, but no one's really doing anything about it. Builders are figuring it out as they go, but for the majority, it's not something that becomes part of the conversation. Here on the West Coast, everyone is still building 2-story homes because dirt is so expensive.
Boomers are a huge--and hugely under-served—demographic, and they represent a big opportunity. While the traditional thinking used to be to silo seniors in places like Florida, the Carolinas and the southwest, this generation thinks completely differently. The majority push back against age-restricted environments. They don't want to be marginalized. So, how do we include them?
Buyers Who Will Probably Buy Again
Again, this cohort values real estate. They own a home--or two, and they're probably going to want to buy again. Much of the talk about next steps for boomers is focused around wealthy markets, but we need to deliver solutions for boomers who aren't of considerable means. Likely there's a transition ahead of going from one or two incomes to living off assets and social security. Some will have to sell their home to live as they want, and others will be okay.
Either way, there's a big population in the process of figuring out what their next move is, and that translates to a potential sweet spot waiting to be filled. I'm not talking about grandeur, by the way. In particular, homes that are 1500 to 2200 square feet, or what I like to call a highly amenitized jewel box, is what this demographic is after.
Here are features to think about including when building for boomers.
1/ Single-Level Living Plans. Though boomers aren't aged, aging in place is on their mind, and that translates to a single-living floorplan, even with outdoor space at grade or close to it.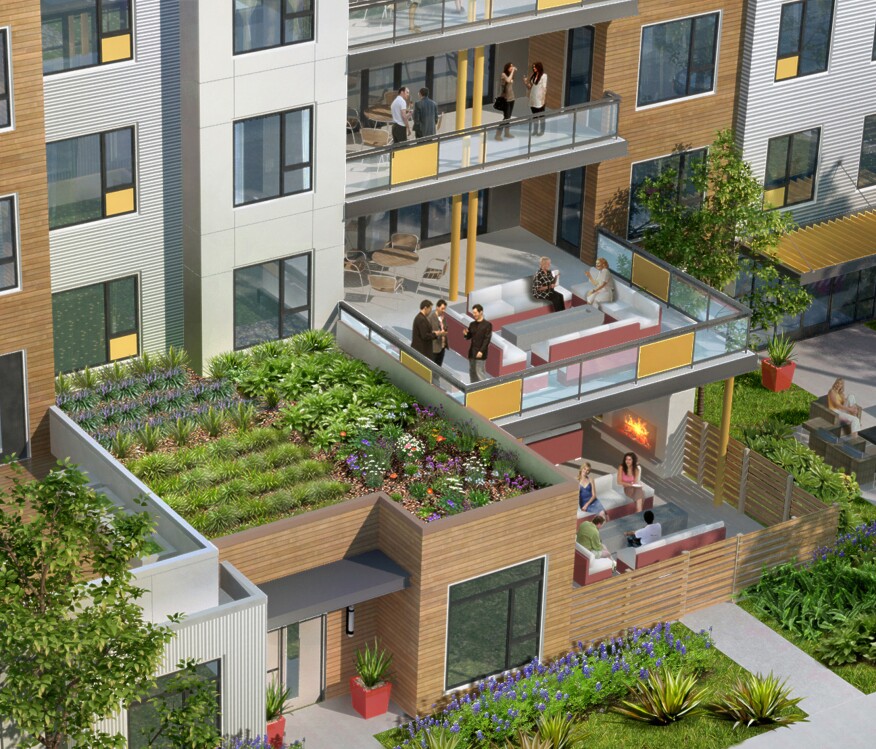 2/ Design Private Outdoor Space. Outdoor spaces are key no matter what the climate is. They make a home live larger, they make it feel special, they make it feel peaceful, and it's an amenity that boomers are used to and expect. The space needs to be large enough to accommodate entertaining. Boomers may not be partying hearty, but they prize connection and community, and want to have friends over.They also want low-maintenance and the ability to lock-and-leave so they can enjoy traveling.
3/ Reconsider The Two-Car Garage. The 300-some square feet of space devoted to 2 automobiles can be put to better use. Boomer couples may no longer have two cars. Many have bicycles--over 80 percent of Americans do. Space for bicycles, tinkering, and that extra refrigerator are novel ways of thinking about the garage, which needs to become customizable, whether it's for storage, puttering, cold drinks, hobbies, or crafts.
4/ Customization Will Seal the Deal. You don't have to go completely custom, but areas of the house need to become flex or idea spaces that can be used according to different needs, whether it's a sports-watching room, home office, tech room, or yoga or meditation room. If you're thinking media room, be sure to design in enough wall space for that flat screen TV.


5/ Make the Master Suite Special. Don't let the bath be an afterthought. Master suites need to feel like havens,--and don't forget the bathtub. Peninsula tubs are great looking, but there's no deck area—no place to put soaps, sponges, candles and bath gels. Walk-in closets are super-important—both male and female boomers have wardrobes, and they need hanging space.


6/ Include Kitchens for Cooking, Living, and Friends. Even if they're not partying up a storm, boomers are sharing good times with family, friends, and neighbors. They're baking cookies for colleagues, and they're making lasagna for friends in need. They'll also do anything for their kids. Kitchens are expensive, so builders have to be smart about how far they go.


The oncoming age wave is a highly underserved cohort that wants something special, and it doesn't have to be big or super-deluxe. It's a huge opportunity for you to deliver homes that are right-sized, well-outfitted, and that are just what this very large group of buyers has been craving.