Don't be fooled: this is a completely new 6,200-square-foot-home—the 22nd in a series sponsored by BUILDER and the NAHB's Supplier 100. But the design of this year's showhome suggests a dwelling that started out as a humble three-bedroom, two-bath abode and grew over time to meet the needs of its owners ... without losing its timeless appeal. As if originally built in 1990 and finally finished this year after several remodeling projects, the story of The New American Home 2005 is presented as an "owner's diary" that tracks its progression from a modest move-up family house to a spectacular custom home.
Journal Entry: January 2005
Well, it's done ... finally! I'm not sure what else we can do to this house. It's perfect, really. The kids have their space upstairs, including the game room and laundry we added two years ago (not to mention the built-in computer desk), and we have our retreat, with our sitting room above it. The Williamsons stayed in the guest suite last week; I still remember when that was our master bedroom!
I'm glad they were here to see—and enjoy—the last pieces of the puzzle put in place: the pool and outdoor kitchen. It's even better than what we saw on the plans, and it really makes the outdoor living area a great space. Even if all the outdoor areas didn't face north, the 22-foot-deep overhangs would allow us to enjoy the patio and the deck above it almost all day, year-round. Plus, the pool faces the side street, so there's plenty of privacy in addition to the favorable exposure. There's even a full bath under the outdoor stairs.
It's hard to remember what this house was like when we moved in. It wasn't much, that's for sure. The lot was 100 or so feet across, but the master plan required us to build a narrow front elevation and use the alley behind the lot for the cars and a garage. We decided on an eclectic Spanish style with some Tuscan touches (at least, that's what our architect called it) very much like the houses in old Orlando, Fla.—deep-set windows, wrought iron, exposed corbels, and that trio of arches that we've managed to carry though all the additions and remodeling projects since. Those are the kinds of things you take for granted sometimes, but they really make the house feel comfortable and tied together, like it was all built at the same time (ha! We wish).
Back then, it was a simple two-story, three-bedroom house, with one of the bedrooms over the living room and the master suite just off the foyer. Maybe 1,700 square feet, all told. No yard, just a postage-stamp concrete pad behind the kitchen and a narrow path to the garage and alley.
We've come a long way since then (in more ways than one), connecting the house and the garage with the great room and the new master suite, adding more rooms above them, and—finally—achieving nirvana with this fantastic outdoor pool area. I'd say we've got about 6,200 square feet of conditioned space now, with probably another 1,800 or so under roof, the garage, the little garden off the master bath, and now the pool. It's hard to believe we own such a grand house, especially one that started from such humble beginnings!
We had our architect, Ed Binkley, of Bloodgood Sharp Buster, draw up new plans that show what our house looks like since we added the outdoor living area. He's designed all of the additions and remodeling projects we've done over the years, but we haven't seen a complete floor plan since we added the great room about seven years ago.
I can see now why Ed calls the house "introspective." Almost every room looks or turns into the courtyard. That's a function of the long, narrow lot, he says, which afforded us the space to add to the back. There was also a strict limit on what we could do to the front: nothing (according to the master plan for Baldwin Park, our neighborhood).
If you try real hard, you can see the layout of the original house along the front of the floor plan, though we've since blown out the living room with a 25-foot beamed ceiling. The gallery above is the only remnant of the bedroom that used to span that space.
Looking at the plan, the family room and outdoor living areas are almost identical in size; when we open those folding glass doors between them, it's more than 1,400 square feet of living space! And I would never have imagined having a master suite so big, but I sure wouldn't want it any different.
Upstairs, the bedrooms are all in a row, but their doors are set in from the hallway to make it less of a straight line when you look down the hall. That covered deck has become the kids' hangout (when they're not in the pool), and the balcony does a great job of shielding the sitting room over the master bedroom from the morning sun.
Journal Entry: June 2001
Wow, what a difference! The architect suggested eliminating the bedroom above the living room and blowing out the ceiling when we added the bedrooms upstairs over the great room, but it was hard for us to imagine how it would really feel. But now it's spectacular ... and worthy of the house we've created. Leaving that section of the second floor over the foyer helps distinguish the entry from the living room, and I'm glad we were able to find for the new ceiling the same hand-hewn beams that we used in the great room. They really tie the house together.
I like the fact that they've been reclaimed (I'll bet we're the only house in Orlando with beams taken from an old military base in California and a grain elevator in Western Canada). I like the fact that we added a French door that leads out to the covered veranda at the base of the stairs. It makes it easy to get out there from the living room, instead of having to go through the kitchen.
We also always wanted a wine cellar, and it was ingenious to convert the space under the stairs and add that leaded glass window to the foyer. With the door to the cellar right off both the kitchen and dining room, grabbing another bottle from our growing "collection" is pretty convenient.


The new windows are also fantastic; they make the living room seem a lot larger, though we definitely need to do something outside, beyond the covered veranda. The kids want a pool, and that makes sense, but we're going to have to wait a while before we do any more remodeling after doing so much in the past five to six years. Besides, I still like the idea of adding a sitting area over the master suite and connecting it to the upstairs bedrooms with a wraparound deck before tackling a pool.
Journal Entry: April 1998
We always dreamed of having a gourmet kitchen, and now we do! Of course, it came with a 30-foot great room and breakfast nook, making it even more impressive and useful. Now, we really can have the party in the kitchen, with people sitting and snacking at the bar island or milling around the great room. I like the fact that we can prep the next course without feeling left out of the conversation or crammed like sardines.
Everyone comments on the counter-tops. They're granite, of course, but the contractor laminated two slabs together to make them twice as thick before he finished the edges. We also had a little fun with the bar island by choosing a color pattern that is the reverse of the rest of the countertops.
This kitchen has everything—and there is still room for at least three cooks. Adding the butler's pantry between the kitchen and dining room was a stroke of genius, especially with that built-in coffee maker, warming drawer, and extra refrigerator for the caterers. It puts pretty much everything we need within reach so we don't have to trek out to the kitchen for a refill or an extra wine glass.
I have to say, my favorite thing about the kitchen is the concealed walk-in pantry next to the double wall oven. The shallow-depth cabinets next to the pantry are also very cool, not to mention convenient and smart. Oh, and then there's that "meteorite" finish on the appliances that's supposed to not show fingerprints. I was skeptical, but it really works!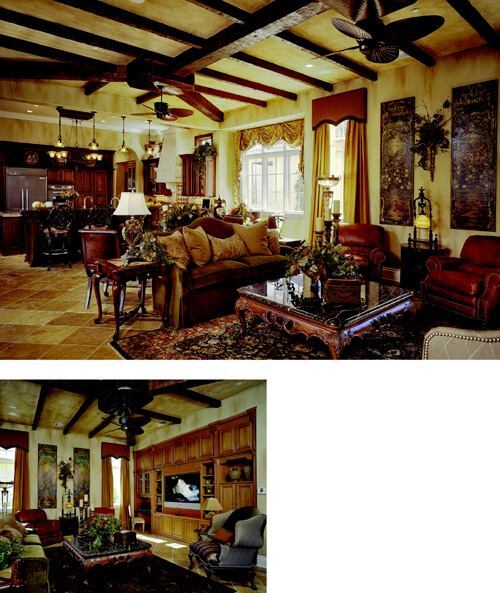 Sinks and faucets. Each island features a pair of deep stainless-steel sinks and goose-neck, pull-down faucets from Kohler. The pasta faucet over the cooktop is from Frankie Kitchen Systems.
Floor and wall tile. Glazed floor and wall tiles from Dal-Tile deliver a rich texture and sense of solid construction throughout the main level, including outdoors.
Disposers and hot water dispensers. In-Sink-Erator supplied both products on each island. .
Lighting and controls. Recessed fixtures from Lightolier and controls from Lutron Electronics create a scheme for general and task lighting.
Exposed beams. Hand-hewn beams from Vintage Timber-works were reclaimed from torn-down military and farm buildings.
Vent hood. Barbara Tattersfield Design created the natural stone surround for the cooktop's vent hood.

Journal Entry: April 1998

Yes, remodeling the kitchen and adding the great room was a big (and expensive) project all by itself. But while we were at it, it made sense to add the veranda along the length of the great room. It's almost a mirror image at 22 feet deep and 33 feet long. And when we open all three sets of those 10-foot-wide, floor-to-ceiling, accordion-style glass doors, the combined space is gigantic. We had no trouble fitting all those people who came for the hospital fundraiser last month (thankfully, the project was finished in time).
I remember initially thinking we could get away with a shallower veranda, but our architect was right: It's a relatively cheap space to build, and we can set up furniture out there, like it's another family room, without tripping over it on our way in and out of the house. With that gas fireplace and natural stone hearth, not to mention the fact that the veranda faces north, toward a side street, I can see us using the "outdoor living room" around the clock, year-round.
Journal Entry: May 2003
This is what I hoped to accomplish, only better. No, we still don't have a pool (the kids are becoming a little more anxious as they get older), but adding an upstairs deck over the veranda and wrapping it around the west side of the courtyard encloses the outdoor living space and gives us an exterior staircase that's one of my new favorite features in this house. Like the veranda below it, the deck gives us and the kids (mostly the kids) more than enough space to hang out with friends or study outside (ha!), especially in the late afternoons. We decided to add another fireplace up there, too, but we faced it with a veneer fieldstone that reminds me of the hearth in my parents' house. I also like the French doors we added at the top of the main staircase onto the deck so you don't have to go all the way down the hall to get out there.
Folding glass doors/windows. A trio of full-height hinged windows from Nana Wall Systems fold away to create a true indoor/outdoor experience.
Fireplace. Designed specifically for outdoor use, Heat & Glo's 36-inch Dakota gas fireplace inserts on both the deck and the veranda feature gas logs by Rasmussen.
Hearth. The natural stone fireplaces and surrounds on the veranda were designed, supplied, and installed by Barbara Tattersfield Design, while Owens Corning Cultured Stone provided the fieldstone face for the deck's fireplace.
Ceiling fans. There's nothing standard about the various ceiling fans by Fanimation, which include dual-motor designs and leaf-inspired blades.
Surfaces. Both "summer kitchens" feature Formica Stone Natural Quartz Surfacing, a durable, stain-and scratch-resistant solid surface material.
Patio doors. Aluminum-clad wood outswing patio doors provide multiple points of access. Hurd Millwork Co.
Grill. Rasmussen's gas grill enables outdoor cooking on almost any scale.
Stainless steel cabinets. Danver provided the cabinets for both outdoor kitchen areas.
Pool. Champagne Aquatech Pools installed the spectacular custom pool designed by Aquatic Consultants.
Refrigerator. Kelon USA's IBox offers a whimsical child-size refrigerator for the upstairs deck.
Journal Entry: June 2001
We spend out first night in the new master suite, and it was a dream come true. Actually, it's so nice I'll probably need some time to get used to it. No more traffic noise now that we're in the back corner of the house, no more hauling laundry to the garage from the front of the house (there's a full washer and dryer in the closet), no more sharing a single pedestal sink in the bathroom. We even have a private little garden off the bathroom.
I can't get over how restful the bedroom is. The architect designed it so that only those little windows high up on the wall we share with the veranda and the French doors leading out to the courtyard draw natural light, but otherwise it's cool and serene. He also designed an alcove for a "mini kitchen" for late-night snacks ... and an extra "wow" factor when we show it to friends and family.
I know I shouldn't get worked up about a closet, but this one has it all: plenty of drawers, cabinets, and hanging capacity—with lighted closet rods, no less! The closet also buffers us from any traffic noise along the alley; the bathroom does the same from the side street. Plus one of us can get ready while the other sleeps.
Oh, yeah ... the bathroom. In a word, luxury. We've got a walk-in, two-person shower, our own vanities, and a closet for the toilet and bidet. The soaker tub sits in a window well with TV screens on the wall at either end; when they're off, the screens look like mirrors. A motorized shade covers the window but still lets in some light.
The architect designed the master bath so we could add a sitting room above it later; he even created a tower between the closet and bathroom for a private spiral stair. We'll see. ...
Cabinets. Carved feet give stock cabinets from Timberlake a furniture-quality appearance.
Plumbing fixtures and fittings. Luxury is king with Kohler's Serpentine Bronze lavatories and Memoirs fixtures, faucets, and Master-Shower fittings as well as a Sok overflowing tub.
Tile. The floor and walls feature combinations of Dal-Tile's Sonora Stone and Metal Ages tile lines.
Patio doors. Hurd Millwork Co. provided multi-lock, aluminum-clad wood hinged patio doors throughout the house.
Laundry. Maytag supplied its Neptune line of laundry equipment combining its Drying Center and top-loading washer.
Interior doors and hardware. The custom master bedroom doors by Old World Door combine with paneled interior doors from Masonite International and door hardware from Baldwin Hardware throughout the house.
Entertainment system. The owners get the latest in electronic living with a Bose Lifestyle Home Entertainment System and a Fujitsu 42-inch plasma monitor. Meanwhile, the master bath offers a pair of wall-mounted, 15-inch LCD televisions (that look like mirrors above the tub) from Sharp.
Journal Entry: June 2001
Part of this massive undertaking involved totally reconfiguring the upstairs. I was a little nervous about removing a bedroom we already had over the living room, but the architect was right: The flow was lousy, and we had all that space over the great room to expand the second floor. We kept the one bath (actually converting it to a Jack-and-Jill bath that reminds me of "The Brady Bunch," only much, much nicer) and added another down the hall, with the third bedroom. It's kind of a suite, but that bathroom also serves the new game room, where we've got a drop-down projector and big screen for watching movies as a family. I kind of like having the entertainment area upstairs; we can throw parties and fundraisers on the lower level while the kids hang out upstairs. We also moved the laundry to a new space at the top of the back stairs, which end at the garage. So much for us catching the kids sneaking in after curfew!
Cool Features
Vanishing glass wall: The NanaWall enables full-height, full-open access to the upstairs deck from the sitting room by folding like an accordion along a hidden overhead track and a slim floor track that meets ADA-threshold requirements. Closed, it's weathertight and energy-efficient; open, it creates an unobstructed view and a generous connection with the outdoor spaces —most evident in the great room, where three, 10-foot NanaWalls open to the outdoor living area. Nana Wall Systems.
Journal Entry: May 2003

Once we decided to build the covered deck off the second floor over the veranda, it only made sense to pull the trigger on the sitting area over the master suite, too. The effect is really spectacular. It feels like we live in a villa, with all the covered areas, the wraparound deck, and the outdoor staircase framed in the arches. The sitting room, which we can get to by using the wrought-iron spiral staircase, is the antithesis of our bedroom: wide open with windows and light. We use it throughout the day to enjoy a lazy morning with the paper and coffee, pay bills, watch a little television in private ... that kind of stuff. The builder found a variation on the folding glass walls we put in the great room: One door swings out (like a French door) to the deck overlooking the courtyard, or you can fold all of the glass panels and open the entire sitting room to the air.
Cabinets and built-ins. Timberlake supplied various cabinet styles from its Durango and Rushmore lines for the game room, laundry, computer desk, and upstairs bathrooms.
Windows. A variety of aluminum-clad wood casement, awning, and specialty-shaped windows from Hurd Millwork Co. offers energy efficiency, divided lites, and stunning looks.
Surfaces. The bathrooms and laundry room feature Formica Stone Natural Quartz Surfacing, a durable, stain- and scratch-resistant solid surface material.
Wood flooring. Bruce hardwood flooring in 5-inch-wide planks delivers elegance and durability to the common areas upstairs.
Laundry. A gas-powered stacked washer/dryer from Maytag's Neptune line of equipment.
Plumbing fittings and fixtures. Moen supplied the water closets in the bathrooms, while Kohler outfitted them with various lines of fixtures and fittings.
Interior paint. Luxurious and durable coatings from Sherwin Williams.
Lighting and controls. In addition to providing controls for the shading system in the game room, Lutron Electronics provided lighting controls throughout the house.
Carpet. Shaw provided plush carpeting for all of the upstairs bedrooms.
Ceiling treatment. DecoMetal laminate from Formica, featured on the sitting room ceiling, offers a real foil laminated to an insulating phenolic core.
Tile. Glazed porcelain floor tile in the laundry and on the walls and floor of the shared bath from Dal-Tile.
Home theater. With a concealed drop-down projector from InFocus and a Draper projection screen, the game room is entertainment central.
Journal Entry: January 2005
After much debate, we decided to add a computer desk to the row of bookshelves in the upstairs hallway so the kids can plug their laptops into the Internet if they need to go online, and we can still salvage a little peace of mind. It looks as if it were built that way originally. We're happy to see that the kids have taken to doing their homework there instead of at the kitchen island.
We also finished the gallery over the foyer. Thanks to the thick walls on the second level (which also give us those deep windowsills we love), we were able to build in enough shelves to more than make up for what we lost by adding the computer desk down the hall—without taking away any of the floor space in the gallery. It's a great finish to the upstairs.
My Favorite Details
What's great about our brand-new house is that it already looks classic, almost historic. Check out the huge timber corbels, the wrought iron detailing on the bedroom balcony, the textured stucco, the deep-set windows, and the Spanish roof tiles. Timeless.Man, I was glad we found the same company that provided the exposed beams in the great room when we wanted to recreate the effect in the living room ceiling. The architect told me that the beams in the living room were reclaimed from demolished buildings. Pretty cool.
This ceiling treatment in the master bedroom adds perfectly to the serenity of that space. Amazing what an artist can do with paint! It almost looks like it's in motion—very calming, especially with those dark, cool colors. I catch myself looking up at it even if I'm just walking pass!
This was a special treat when we moved in. Our builder surprised us with a beautiful, hand-laid mosaic tile pattern just inside the front door, which we replicated for the rotunda, just past the great room, which leads to the rear stairs, garage, and master suite.
When we put in the back stairs off the new addition, we decided to update the main staircase, too. Both have tile risers with these cool metallic tile inserts. Can you believe every one of those tiles was put in by hand? There was a bit of sticker shock when we saw the price, but it was well worth it.
Journal Entry: January 2005
I wish I'd taken a picture of the rear of the house when we first bought it, because it looks so different now. Not that anyone but our neighbors really ever sees this view, but that's not the point. We've added so much to this house over the last decade or so, but it looks like it was built this way all along. In fact, I dare say the back of the house is as interesting as the front, with the tiered arches following the line of the outside stairs, the different roof lines and window shapes and sizes, the tower in the middle for the spiral stair up to the sitting area over the master suite ... even those little square windows that bring daylight into the closet. It just makes me proud when I drive into the alley to the garage.While the vast majority of concrete roof tiles are made in an "S" pattern for faster installation, a cap and pan style of tile creates a more authentic, classic Spanish look. For additional insulating value, the roofing features a bead of urethane-based expanding foam on both sides of the pan edges, which effectively seals the cap and pan pieces together without additional fasteners. Hanson Roof Tile.

Garage storage system. Gladiator GarageWorks provides a variety of storage and work surface options in the garage.
Central vacuum. Dirt Devil's system combines convenience with cyclonic cleaning action and a high-performance filter.
Garage floor. The spray-applied Durafleck system from Advanced Coating Technologies provides an attractive, non-slip surface.
Windows and patio doors. A variety of aluminum-clad wood casement, awning, and specialty-shaped windows and outswing French doors from Hurd Millwork Co. offer energy efficiency, divided lites, and stunning looks.
Stucco. The stucco system was supplied by Holcim (U.S.).
Lighting. Maxim supplied a variety of exterior light fixtures for the house, while Evening Sun's low-voltage products illuminate the landscaping.
Garage doors and openers. The new Renaissance series of Carriage House doors from Overhead Door Corp. feature wood-grained trim and iron handles and hinges mounted on insulated steel panels, powered by the company's ½-hp Legacy openers.
Garage wall tiles. A series of laminate tiles from Formica creates the checkerboard pattern.
Electrical. A variety of Cutler-Hammer products by Eaton's Electrical Business include the load center with surge protection, A/C disconnects, whole-house structured wiring, and a 12kW generator system with automatic transfer.
Gutters and downspouts. Copper gutters and downspouts by Rutland Gutter Supply complement the authentic detailing of the exterior.
Fire sprinkler system. Noveon provided the CPVC piping and Blaze-master suppression system throughout the house.
Wrought iron. Bureto Metal Studio provided the custom-fabricated wrought iron railings and other exterior and interior details.
Journal Entry: March 1989
It's pretty exciting to see your new house come out of the ground like this. We were surprised how quickly the workers built the first floor (out of concrete blocks). Our builder, Kim Goehring, explained that the house was engineered more like a commercial building, with some new techniques and products that he says will better withstand hurricanes (like Juan, in 1985). Most of the houses here already are built with masonry blocks, but he's adding extra steel reinforcement and filling most of the blocks with concrete. Even the stairs are concrete! Plus he's planning to build the second floor using 2x8s (2x4s are the norm), which he says will not only set the windows deep into the walls on both floors and provide more room for wall insulation, but give us an authentic Spanish look on the outside. He seems really confident that he can build a weather-tight house for us. We're just hoping there are no more hurricanes!


This house is a showcase of a systems approach to energy efficiency. It is engineered and built to reduce energy use for heating by 70 percent, cooling by 43 percent, and hot water by 64 percent, compared to a similar-sized new house in Orlando, Fla. Specifically, it features solar thermal panels for water heating, four high-efficiency heat pumps with a minimum 14 SEER rating, sealed and insulated ductwork within conditioned spaces, an R-22 insulated unvented attic that achieves remarkable temperature control, low-emissivity windows and patio doors, and spray-applied insulation on the 2x8 framed wall cavities of the second floor. IBACOS Consortium/National Renewable Energy Laboratory. Circle no. 190.
Weatherization. A complete weatherization package from DuPont Tyvek features the HomeWrap barrier system.
Metal connectors. A variety of metal connectors from Simpson Strong-Tie creates a continuous load path that helps resist severe weather.
Concrete. In addition to steel-reinforced concrete blocks (filled with poured concrete) for the first floor, the Portland Cement Association coordinated the provision of a masonry retaining wall and interlocking concrete pavers.
Insulation. A layer of extruded polystyrene foam insulation panels from PACTIV Corp. offers additional insulating value to exterior walls.
Power tools. Workers relied on a complete line of power tools from Hilti.
Drywall. Moisture-resistant drywall from Georgia-Pacific features a paperless surface to help curb mold growth.
Journal Entry: January 2005
The neighborhood has really grown up over the years. When the navy announced it was going to close the training base, people around here were nervous about what would happen to the economy when the military pulled out. It's a choice piece of land, though: a short drive to downtown and the airport, what developers call "infill"—only this one's 1,100 acres! The company that submitted the winning proposal wanted to develop a community that would stand the test of time, so it combed old Orlando neighborhoods from the 1940s and came up with what our builder called pretty strict guidelines for the home's design, materials, and colors. I remember him saying that he and some of the other builders were a little offended by a developer telling them how to build, but he's since come around (he says the experience made him a better builder and that the rules put everyone on a level playing field).
You only have to look at our house now, and those of our neighbors, to see how right they were to dictate housing styles—even down to the smallest exterior details. I mean, it's not like every home is the same. Ours is stucco, but there's a mix of styles up and down our street. They did a good job building parks and water features, too; there's even a little shopping and office area just down the street from us, which also seems as if it's been there forever. People have almost forgotten about the old naval base that used to be here.
We had a rare chance to take a picture of our architect, builder, and interior designer when they all came over to celebrate the last of our remodeling projects. Pretty remarkable that they were all here in the beginning, working together as if they were all from the same company, making sure we made decisions that kept the overall feel of the house intact but still gave us the spaces we needed. Now that it's finished, I can see what they had envisioned 15 years ago: Everything seems to fit together, but it's hardly boring. They did a great job!
SPONSORS
Sponsor: The NAHB's National Council of the Housing Industry (NCHI)/Supplier 100, Washington
Builder: Goehring & Morgan Construction, Orlando, Fla.
Architect: Bloodgood Sharp Buster Architects and Planners, West Des Moines, Iowa (Oviedo, Fla., office)
Interior Design/Merchandisers: Saxon-Clark, Orlando
Media: Hanley Wood, LLC (BUILDER magazine), Washington

The New American Home 2005 would not be possible without the generous support and contribution of products and services by the members of the NAHB's National Council of the Housing Industry (NCHI)/Supplier 100 and other consultants, contributors, installers, suppliers, and trade partners.
Supplier 100 Member Contributors
Aprilaire (electronic air filters, zoning systems, thermostats)
Armstrong World Industries (Bruce hardwood flooring)
AVAD (integrated electronics) Bose (whole-house audio) Dirt Devil (central vacuum system) Draper (projection screen) Fujitsu (plasma TV) InFocus (projector TV) Panasonic (phone system, cameras) Samsung Electronics America (LCD and DLP TVs) Wilson Technologies (electrical systems coordination)
Black & Decker Hardware/Home Improvement Baldwin Hardware Corp. (interior door hardware)
BUILDER magazine
ClosetMaid (guest suite closet shelving)
DuPont Tyvek (weatherization system)
Eaton's Electrical Business/Cutler-Hammer (electrical load center, structured wiring, generator system, A/C disconnect, sub panel and breakers, pool/spa controls)
Formica Corp. (solid-surface countertops, metal ceiling treatment, decorative garage wall)
Fortune Brand Home Products (Moen plumbing fittings)
GAMA/Vent-Free Gas Products Alliance Maxitrol (gas valves, connectors, disconnects) Rheem Water Heating (water heaters)
Georgia-Pacific Corp. (drywall, wood panels, tile backer board, subfloor panels)
Hearth & Home Technologies (Heat & Glo gas fireplace inserts)
Hearth, Patio & Barbecue Association (coordination of fireplaces, barbeque, and accessories) The Coleman Co. (patio heaters, bug zapper) Rasmussen Gas Logs (outdoor gas grill, gas logs) Superior Clay Corp. (chimney caps) Travis Industries (fireplace)
Hilti (tools and fasteners)
Honeywell (security controls)
Hurd Millwork Co. (windows, hinged patio doors)
IBACOS Consortium/National Renewable Energy Laboratory (design/engineering services, energy-performance testing and monitoring)
Icynene (insulation)
In-Sink-Erator (hot/cold water dispenser, waste disposer)
Kelon USA (appliances)
Kohler Co. (plumbing fixtures, fittings, and accessories)
Lennox Industries (integrated home comfort systems)
Lutron Electronics Co. (lighting design and controls, motorized window treatments and accessories)
Masco Corp.
Brass Craft Manufacturing (shut-off valves, risers)
Masonite International Corp. (interior doors)
Maytag Appliance Sales (laundry equipment, beverage center appliances)
Mohawk Industries Dal-Tile (glazed floor and wall tile, accents)
NEC Solutions (America) (personal computers) Stampede (consumer electronics supplier)
Noveon (fire sprinkler system) Flowguard Gold (CPVC piping) Wayne Automatic Fire Sprinklers (fire sprinkler system installation)
ODL (skylight)
Overhead Door Corp. (garage doors and openers)
Owens Corning Corp. Cultured Stone Corp. (cultured stone)
PACTIV Corp. (foam insulation and tape)
Portland Cement Association (exterior walls, structural and decorative concrete) Cemex (concrete supplier) Florida Concrete & Products Association (concrete coordination) Florida Rock Industries (concrete supplier) Rinker Materials of Florida (concrete supplier) Tarmac (concrete materials)
Propane Energy Research Council (propane tank, gas lights) Four Seasons Gas Services (gas system supplier and installation)
Sharp (LCD TV)
Shaw Industries (carpet, pad)
Simpson Strong-Tie (metal connectors, structural hardware)
Timberlake Cabinet Co. (cabinets, built-ins)
2-10 Home Buyers Warranty (home warranty products)
Whirlpool Corp. Gladiator Garageworks (garage storage system) KitchenAid (appliances)
Other Contributors, Suppliers, Trade Partners, and Consultants

Acme Glass/Basso Enterprises (shower/bath door enclosures, seeded glass, glass for wine cellar floor)
Advanced Coating Technologies (Durafleck garage flooring)
All Solar Service Co. (solar hot water heater) Florida Department of Environmental Protection/ SunBuilt program (funding) Florida Solar Energy Research & Education Foundation (SunBuilt program implementation)
Alpha Tile & Stone (flooring supplier)
Alpha Vision (virtual tour)
Amick Custom Woodcraft & Design (decorative garage wall installation)
Ann's Window Workroom (window treatments)
Apex Sauna & Wine Cellars (wine cellar and installation)
Apgar & Apgar Construction (carpentry labor)
Aquatic Consultants (pool, waterfall, water features design)
Baldwin Park Community (subordinated lot)
Barbara Tattersfield Design (natural stone fireplace surrounds and kitchen hood design, supply, and installation)
Bob & Elliott's Piano Shoppe (grand piano in living room)
Booth's Cobblestones (cobblestone installation)
Bright House (telecommunications and Internet cabling and installation)
Builders Insulation (fiberglass and foam insulation installation)
Bureto Metal Studio (wrought iron fabricator and installation)
CalSpas (hydrotherapy spa)
Cantera Doors (front entry doors)
Champagne Aquatech Pools (pool construction)
CJS Aluminum (aluminum soffit)
Cobble Systems (cobblestone supplier)
Comfort House (temporary restroom facilities)
Contemporary Upholstery (window treatments)
Crane Rental of Orlando (heavy equipment)
Creative Tile Installations by Carolyn (tile installation)
Crown Heritage (stair parts)
Cross Enterprises of Florida (concrete pumping—slab)
Danco Roofing (roof installation)
Danny's S.W.D. Concrete Pumping (concrete pumping—lintel)
Danver (outdoor kitchens)
Del-Air (air conditioning and heating installation)
DKay Specialties (window treatments)
Evening Sun Landscape Lighting (low-voltage landscape lighting)
Exterior Expressions (cultured stone installation)
Fanimation (ceiling fans)
Ferguson Enterprises (plumbing supplier)
Fine Art Lamps (lighting)
The Flooring Center (carpet supplier and installation)
Florida Design Solutions (engineering services)
Foreign Accents (copper pedestal sink, decorative tile)
Frankie Kitchen Systems (pasta faucet)
Fypon (molded trim)
Garner Window & Door (window distributor)
Garys Quality Mirrors & Glass (leaded glass supplier and installation)
Get Organized (closet and garage storage systems installation)
Hanson Roof Tile (roof tile supplier)
Henrich-Luke & Swaggerty (surveys)
Holcim (U.S.) (stucco supplier)
Holloway Plumbing Co. (plumbing labor)
Home & Graphics Painting (painting labor)
House Parts (drapery hardware)
Isokern (guest suite fireplace)
J. Rolfe Davis Insurance (insurance)
Jandy (faux painter)
Joe Knight, ASLA (landscape architect)
Julie Telford—Art Design (faux painting services)
KS International (drop cloths)
Lightolier (closet rods)
Lightstyle of Orlando (ceiling fan retailer)
Massey Services (termite prevention system)
Maxim Lighting International (exterior lighting)
Metro Tile & Marble Restoration (cleaning and sealing floor services)
Miele (coffee system)
Milcarsky Appliance Centre (kitchen vent hood supplier)
Moore's Concrete & Masonry (masonry labor)
Mosaicist (mosaic pool tile and installation)
Nana Wall Systems (folding glass walls/doors)
Old World Door (custom doors)
OnSite Safety Systems (safety railing)
Paradise Awning & Graphics (awning material and installation)
Pumpco (poured concrete labor)
Quartz Solutions (solid surface fabricator)
Residential Elevators (elevator)
Resinart/Resinart East (molding)
Rexel (light bulbs)
Rey Homes (heavy equipment)
R.K. Edwards (drywall installation)
R.M. Coco/The Finial Co. (window treatments)
Rutland Gutter Supply (copper gutters and installation)
SCS Hardwood Flooring (hardwood floor installation)
Sealoflex Waterproofing Systems (waterproofing system)
The Sherwin-Williams Co. (interior and exterior paint)
Smyth Lumber Co./Stock Building Supply (structural lumber supplier)
Sta Green Landesign (landscape materials and installation)
Stair-Smith (stair installation)
Stone Crazy (granite materials and fabrication)
Style Solutions (exterior corbels)
Sun Trust Bank (financial services)
Suncoast Roofing Supply (roofing and adhesive distributor)
Tri City Electrical Contractors (local electrical products and services)
Vervain, S. Harris, Fabricut (textiles)
Vintage Timberworks (reclaimed interior beams)
White River (decorative moldings)
Yovaish Engineering Sciences (engineering services)
Learn more about markets featured in this article: Orlando, FL.