At the core of Bates Masi + Architects' design for this beachfront miniature is a study of geometry and perception. Fueled by the challenge of building a home within restrictive local building parameters, the Sag Harbor, N.Y.–based firm experimented with subtle shifts that stray from standard collapsible features found in many tiny home blueprints, to create a home that feels luxurious inside its small 15-foot-by-20-foot footprint.
The home's quarter-acre site—purchased by the current owners over 40 years ago—is situated 500 feet from the Atlantic Ocean, resulting in adherence to state, county, and town codes when the owners asked Bates Masi to conceptualize a building plan.
Negotiations finally permitted a house no larger than 600 square feet, but there were conflicting regulations regarding the height. FEMA required the first floor to be elevated 6 feet above natural grade, while the town placed a 25-foot height restriction, which ultimately dictated the structure's unique shape.
"We decided to approach the project with a different strategy," says architect Paul Masi. "We're only allowed to make the house 600 square feet, but if we're able to play with the geometry of it by splaying the walls out or opening up the aperture in the middle, the perception of the space is bigger. Even though you're living in only 600 square feet, it feels like much more."
Inside the home, the architects designed a comprehensive floor plan that includes an open living and dining area that doubles as a kitchen, two bedrooms, two baths, and an ocean-facing deck. To maximize the allotted​ ceiling height, the firm engineered the roof and floor plates to be as thin as possible, adding sublevel details such as radiant flooring. Three separate mini-split HVAC systems allow each of the three rooms to be adjusted and controlled individually.
"It really became efficient in terms of which spaces you needed to heat or cool," Masi says, "but it also allowed us to have the greatest ceiling height because we didn't have any of the traditional ductwork you would typically find in flooring or roofing."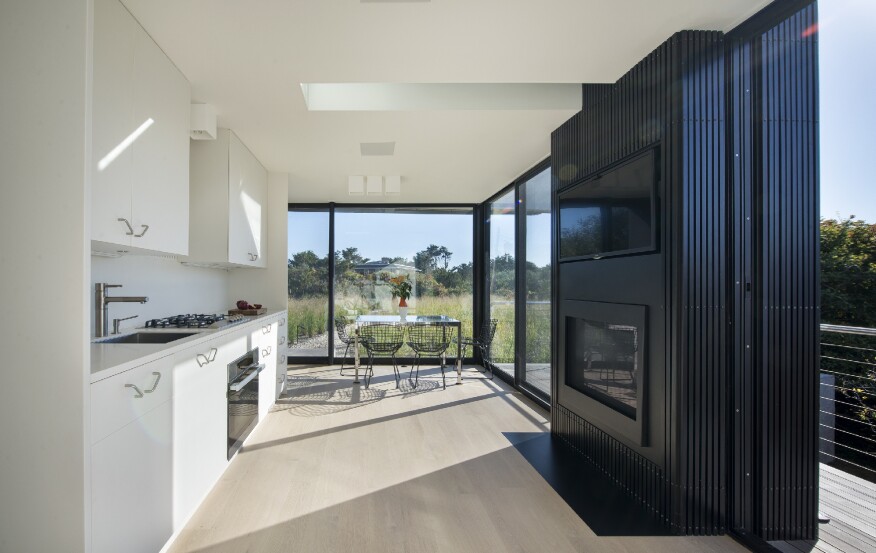 The firm flared the building's timber-clad walls out from the base and up toward the roof, creating a central well that floods the first-floor space with natural light. Upstairs, a translucent glass wall separates the bedroom and study, filtering the light up to the smaller, soundproofed quarters.
The structure's façade, composed of soft, paneled wood and steel-framed windows, was designed to capture views of the surrounding natural landscape. Despite its limited proportions, the home functions as well as—if not more efficiently than—its larger neighbors.

Project: Beach Hampton
Location: Amagansett, N.Y.
Architect: Bates Masi + Architects, Sag Harbor, N.Y.
Builder: Telemark, Inc., Bridgehampton, N.Y.
Size: 600 square feet
Site size: 0.275 acre
Construction cost: Withheld