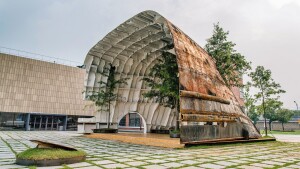 Dezeen's Amy Frearson dives into an unusually shaped pavilion designed by South Korean studio Shinslab Architecture for the Seoul edition of MoMa's Young Architect's Program.
The firm sliced off one end of a rusty, old ship and flipped it upside down to create the metal, arching structure that provides a public gathering space filled with greenery beneath its rough exterior. Dubbed "Temp'L" the project aims to highlight the significance of objects who have lost their function, yet still contain value and beauty.
"Temp'L is designed from the recycled steel parts from an old ship. It shows not only a beauty of structure, but it has also a recycling purpose" said the team, which is led by architect Shin Hyung-Chul. "Any great cultural vestiges can lose their function. In the same way, a material can also lose its original value over time," they added. "The fact that the destiny of cultural relics is to be dismantled, should make us reflect upon what we need to consider for future generations."

Read more >