Every year Visbeen Architects pulls in a stack of awards for innovative designs with lots of thoughtful details. Here are some of our favorites – look out for creative storage solutions, multi-gen friendly layouts, and outstanding indoor/outdoor living.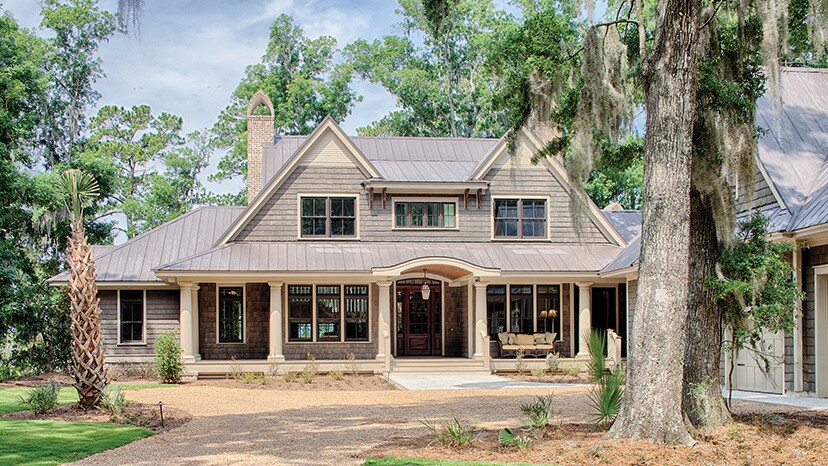 No wonder this plan took home Best in Show and Global Choice awards at the 2014 American Residential Design Awards! With expansive front and rear porches, this Visbeen Architects plan is designed for outdoor enjoyment, but is just as spacious and comfortable inside. The main level's open layout connects the kitchen, dining, and living areas to one another, all with access to the outdoor porches. The master suite occupies one entire wing of the first level, while the upper level features three bedroom suites. The three-car garage offers a one-bedroom guest apartment on its second level. See more images, information, and the floor plan.
It's easy to see why this home won prizes at the 2014 American Residential Design Awards and the 2013 Best in American Living Awards. Designed by Visbeen Architects, the plan features a screened-in porch, fireplace-warmed courtyard, and several more porches for easy transitions between indoor and outdoor living. The open main-level floor plan centers on common living spaces, while still leaving room for a luxurious master bedroom. The upstairs loft offers two individual suites with private bathrooms. A detached garage with an optional bedroom suite above offers even more space. See more images, information, and the floor plan.
This charming plan by Visbeen Architects, which won first place at the 2011 American Residential Design Awards in the Model Homes category, includes all the amenities that complete a space made for entertaining— even room in the garage for a golf cart. Luxurious living spaces flow into each other, with a soaring window wall and dramatic fireplace providing gorgeous focal points. Located on the first floor for convenience, the master suite boasts plenty of windows and a private bath with double sinks. See more images, information, and the floor plan.
Inside this beautiful rustic design by Visbeen Architects, the foyer flows easily to the open living room. Surrounded by windows, the spacious dining area opens to the patio. The master suite offers a luxurious bathroom and walk-in closet, as well as private access to the study. The upper level features two full bedroom suites plus a bunk room and loft, giving homeowners ample space for kids and guests. An additional guest suite is located on the lower level, along with space for fun and games. This design won First Place in the Conceptual Design category at the 2013 American Residential Design Awards. See more images, information, and the floor plan.