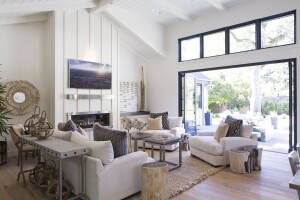 Cottages, Victorian, Tuscan and Mediterranean style homes were once the definition of luxury glamour in California wine country, but a trend from the south has crept its way west.
Wall Street Journal reporter Katy McLaughlin found real estate agents, architects and developers in that region say they can't build modern farmhouse style homes fast enough to meet demand. One modern farmhouse - without the farm - went for $2.95 million. McLaughlin reports that 1-to 3-acre parcels in Napa County cost anywhere from $1 million to $5 million.
The designs are defined by rustic exteriors that feel old and renovated and immaculate interiors with walls of glass, white, elegant finishes, and simple touches like concrete floors or gravel landscaping.
Read more >