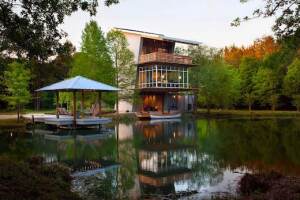 This three-story, 1,250-square-foot home built on the edge of a pond is currently going through some testing and tweaking as the architects from Holly & Smith Architects firm try to make the home sustainable off of only the energy it produces.
As Christine Walsh writes for Jetson Green:
The home features a 14-degree sloping roof, which is fitted with a solar power array. The roof was designed to also channel rainwater runoff into the pond below. In addition to this the home is also equipped with a geothermal heat pump, LED lighting, and spray foam insulation. For better ventilation, the home was also fitted with fully operable windows placed strategically throughout the home.
For now, the architects are focusing on the home's lighting and temperature settings to balance out the production and consumption of energy.

Read more >