When a pair of Silicon Valley entrepreneurs bought a ranch-style home in Palo Alto, Calif., they knew it would take some work to transform it into a space that better suits their contemporary tastes. And when they approached San Francisco-based Feldman Architecture about the renovation, project manager Tai Ikegami and his design team sensed that the clients needed a kitchen that could accommodate their family of five's busy lifestyle. The husband and wife, who love to cook and entertain, were looking for a straightforward layout with features that would speed food prep and clean-up so that they could spend more time with family and friends.
"As we began to learn more about how they worked, and how their lifestyle fills that public space, we quickly realized they weren't looking for a high-performance kitchen," says Ikegami. "This [project] was more about the family home and establishing the core of the house. We wanted to create one central living space that would keep family members from disappearing into their own quarters."
In response, Feldman Architecture's concept for the Creekside Residence and its kitchen centers on understatement, seamless transitions, and practicality. While preserving components of the home's original bones, the existing kitchen was reworked to accommodate an open, L-shaped workstation that connects the dining, living, and outdoor rooms and encourages socializing between the family and their guests. The dining room, which is enclosed by a steel-framed glass solarium, extends onto the back patio, creating a place to eat, work, and enjoy the site's natural surroundings.
Floor-to-ceiling fold-back windows and collapsible doors along the rear façade blur the boundaries between inside and out and offer easy access to the back garden, which serves as a quiet, peaceful sanctuary. Because the front of the home is where the children often play, the architects outfitted the kitchen with a carefully angled window that allows the adults to keep an eye on the children, and approaching visitors, while cooking.
To produce a kitchen that appeals as well as it performs, the design team chose built-in, double-sided cabinets that keep cookware out of sight and house a fully integrated Thermador refrigerator and freezer unit, as well as a wall oven. The floor-to-ceiling custom panels, composed of gray-stained oak finished with a water-based top coat, serve as the kitchen's main organizational component.
"A challenge we often encounter with an integrated refrigerator and freezer system is that the actual capacity of a standard, 36-inch unit is fairly small—especially for a family of five," says Ikegami. "Here, we mixed and matched the unit's freezer and refrigerator cabinet columns to achieve the appropriate capacity."
The room's restrained white palette contrasted with light- and dark-wood accents continues into the rest of the home. The L-shaped island allows a number of people to comfortably congregate around the kitchen's two prep stations. Topped with white Caesarstone quartz to provide a durable surface that can absorb the family's high-energy activities, the countertop also doubles as a breakfast bar and provides a more casual eating area than the adjacent dining room.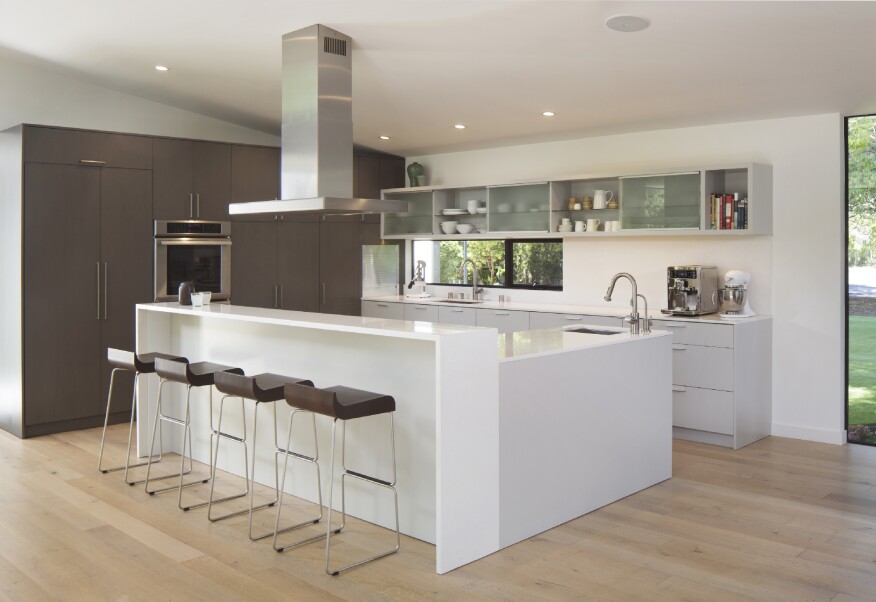 The Creekside Residence kitchen is a testament to a trend toward duplicate appliances that kitchen designers have seen with clients who entertain frequently. In its 2015 Kitchen & Bath Style Report, the National Kitchen and Bath Association reported that 45% of kitchen designers speced two dishwashers in their projects last year, making it the most common appliance speced in pairs.
Here, two sinks maximize efficiency (and postpone the need for clean-ups). The first sits in a rear corner that is farther from sight of guests gathered in the living space, and is meant to conceal dishes, pots, and pans. The second sink, positioned closer to the dining area and designed for cleaning, washing, and prepping, can also be filled with ice and used as a cooler to chill refreshments when entertaining. Two Bosch dishwashers, concealed by cabinet-like panels, split the stack on especially busy days to keep the kitchen clean—and confirm that sometimes doubling up is the best way to get things done.
"There is always a struggle of choosing between a more compact, efficient layout, or extra floor space," says Ikegami. "This open design and its features offer a sense of balance to the family's dynamic lifestyle."
Project: Creekside Residence
Location: Palo Alto, Calif.
Architect: Feldman Architecture, San Francisco
Contractor: Art of Construction,
San Francisco
Kitchen Size: 270 square feet
House Size: 3,519 square feet
Construction Cost: Withheld