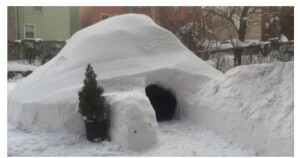 New York Magazine's Jay Hathaway takes a look at how one entrepreneurial Brooklyn, N.Y. citizen, Patrick Horton, re-purposed Winter Storm Jonas's massive onslaught of snow into a backyard igloo—and then proceeded to list it onto Airbnb for $200 per night.
Although Airbnb pulled "Boutique Winter Igloo For 2" from its Brooklyn listings (citing building codes) that same Sunday evening, the listing enjoyed a few hours of glory, spreading to sites like Reddit and Facebook.
"We are happy to see that you guys are staying busy and having fun during Blizpocalypse," Airbnb wrote to Horton, according to DNAinfo. "Unfortunately, your igloo, while very well constructed, has failed to meet our occupancy standards and has been removed from search results. Be sure to pick a place with running water, electricity, and a roof that doesn't melt."
Read more >