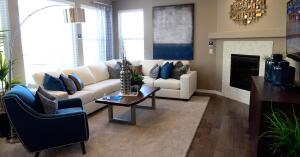 CNBC correspondent Diana Olick may be a little behind the trend in her coverage of new home builders' multigenerational floorplan offerings, but no matter. There's more of a real trend to get behind, as she reports.
Armed with data from John Burns Real Estate Consulting that 21 million American households are composed of more than one adult generation under the same roof. Olick highlights three reasons for the large--and growing--multigenerational household composition:
The recent recession and resulting unemployment hit young workers hardest. An abnormally high number of them therefore never moved out of their parents' homes. Millennials are also marrying later in life, keeping them with their parents longer.
Immigration is another driver. In Asian and Hispanic cultures, multigenerational living is usually the rule.
Read more >