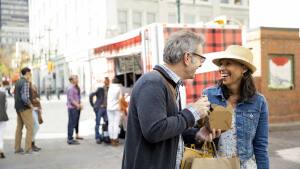 Baby boomers, the largest and wealthiest generation to retire, are changing the face of cities by choosing to retire to urban areas rather than suburbs. Realtor.com staffer Clare Trapasso takes a look at a 2016 National Association of Realtors report which shows that the percentage of buyers, age 50-59, closing on homes in urban areas and central cities increased from 11% from July 2013 through June 2014 to 13% a year later.
One of the reasons that baby boomers are choosing to move to these cities is that developers are catering to them:
To cater to these "booming" buyers, urban builders are now putting up more two-bedroom residences with dens and expanded "laundry rooms," which are generally repurposed into hobby or craft centers or miniature home offices, says Isabell Kerins, a director of product and business development at Irvine, CA–based John Burns Real Estate Consulting.
Read more >