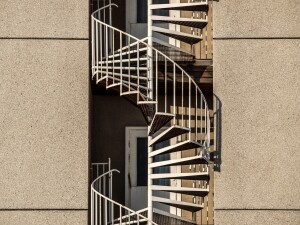 Is the "architectural drama" of a spiral staircase worth the potential danger? The Wall Street Journal's Mimi Faucett has compiled a list of architects' and designers' opinions on spiral staircases, and found strong opinions on both sides of the issue.
Those who favor the spiral staircase value its dramatic flair and departure from straight-lined minimalism. New York designer Ryan Korban argued that it "adds fluidity and a sense of movement to a space." To best appreciate the sweep of a spiral staircase, New York architect Kevin Lichten advises clients to position the structure closer to the middle of the room instead of adjacent to a wall. Homeowners also value this staircase for its space-saving structure, given that most are as few as 5 feet across.
But critics warn of the falling and vertigo hazards inherent in spiral staircases, especially those with open risers. Austin Architect Michael Hsu offers the circular stair as an alternative – a gently curving stairway with a significant design impact that allows for walls and handrails.
Read more >