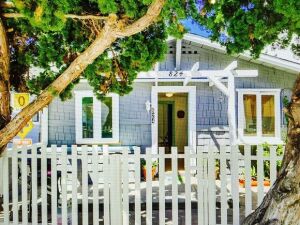 It's no secret San Diego is an expensive market, but apparently its views are worth at least a million dollars. A 410-square-foot, one-bedroom, one-bathroom home on the beach just went on the market for $1,050,000.
A beachfront lot is a rarity in this area. The listing on the San Diego MLS website SANDICOR notes that this is "one of the last water close parcels that haven't been demolished." While you could upgrade the property, we kind of love the cozy, vintage vibe of the current home.
However, the listing says the seller is in the process of attaining a permit for a three-story, 1,460 square foot townhouse on the lot.
Read more >