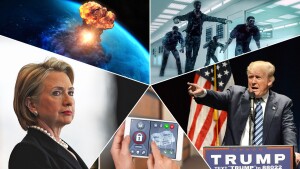 Maybe it's the cable TV shows on the subject, maybe it's a genuine trend, or maybe people are just plain nuts. But realtor.com reports that bunkers, safe rooms and the paraphernailia thereof are all the rage right now.
In the '50s, homeowners fearing Communist attacks built bunkers in their backyards and basements, hung up a few "God Bless Our Bomb Shelter" signs and called it a Cold War.
But today, Americans en masse are again preparing for the worst—and Communists are just about the only thing not on their list. What is? Terrorist attacks, a total economic collapse, perhaps even zombie invasions. Or maybe just a complete societal breakdown after this November's scorched-Earth presidential election.
The business of disaster readiness is getting higher tech, higher priced, and way more geographically diverse, with state-of-the-art underground shelters tricked out with greenhouses, gyms, and decontamination units in the boondocks and the latest in plush panic rooms in city penthouses.
Welcome to the brave (and for some, highly profitable) new world of paranoia.

Read more >