Metrostudy has released the results of the 2Q14 survey of the Philadelphia housing market, which showed steady growth in the region despite a drag on the MSA from Southern New Jersey markets. The Philadelphia region recorded 2,415 observed closings for 2Q14, up 13.9% from 1Q14. Starts for 2Q14 also increased to 2,866, a 26.9% increase from 1Q14. The Philadelphia MSA had 988 closings, down 13.5% from the prior quarter and significantly lower than expected for the MSA. Starts on the other hand increased for the MSA by 33 lots to 1,271, a 2.6% jump from 1Q14. Note that the Philadelphia MSA includes four counties in South Jersey that have pushed the MSA numbers lower for 2Q14. Closings dropped by 70% in South Jersey, and starts in that region also decreased by 60% from the prior quarter. The South Jersey new home construction market has been restrained by lack of job growth as well as the challenges facing Atlantic City.
If we exclude South Jersey, the Philadelphia MSA counties (Bucks, Chester, Montgomery, Philadelphia, Delaware, and New Castle) had a solid 2nd Quarter. Closings increased 10.7% from 800 in 1Q14 to 886 in 2Q14. Starts had a big quarter with 1138 starts, a 26% increase from 1Q14 which could also be attributed to the catch up factor from the two prior quarters. The Philadelphia MSA market has its own challenges with the time it takes to move dirt, but there seems to be some positive momentum in particular submarkets.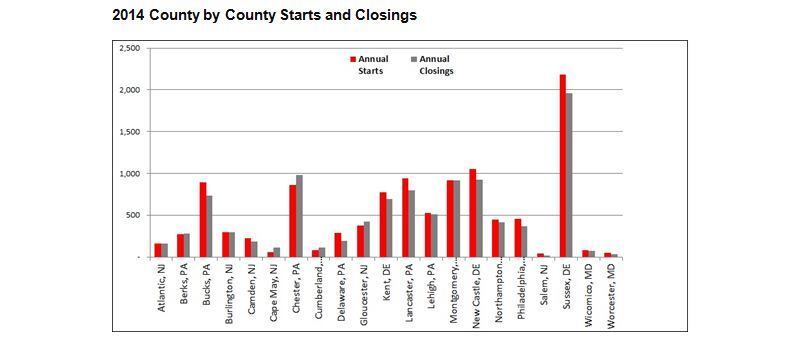 Rising land prices are squeezing out first time buyers. "We are not seeing household formations forming at a capacity to sustain new homes for the entry level or first time buyer in this market," says Quita Syhapanya, Regional Director for Metrostudy's Northeast market. "With the price of land at all-time highs, builders are not able to build homes at the lower price points, making building for this segment nearly impossible. This is why we are seeing an abundance of multi-family for rent apartments in high demand. Lending is also a factor as banks are readily funding for rental projects quicker than the traditional ADC lending for traditional subdivision building."
Total housing inventory (model homes, under construction units and finished vacant homes) for the Philadelphia region has increased 6% since 1Q14 to 4,749 units. Finished vacant inventory stands at 2,704 units in 2Q14, a 2% increase from last quarter.
"The median closing price for a new home in the Philadelphia region was $331,400, a marginal decrease from the prior quarter," said Syhapanya. "Despite that, we still see prices up 9.5% YoY from 2Q13, and the median closing price for a new home for the second quarter is the highest it has been for this quarter since 2Q08. With a majority of the homes being sold on larger lots and the entry-level buyers priced out of the market, a higher median closed price is to be expected."
In 2Q14, there were 23,816 Vacant Developed Lots (VDL) in the Philadelphia Region, up 3.3% from 1Q14's levels. This is the first time VDL's have increased since Metrostudy started tracking the Philadelphia Region in 2Q13. Still, the increased lot supply is not the entire story: a majority of the VDL resides in the state of Delaware, and lots in areas that buyers consider desirable remain scarce in the Philadelphia market. At a high level including undesirable locations the months of supply is at 26.1 months. A healthy market supply level for equilibrium would be between 24 to 30 months. At an annualized starts rate of 10,952 for a rolling four quarters it will take 26 months to go through the available finished lots in the entire market. In specific submarkets, cities, and towns that are in demand those numbers are close to single digits.
There are currently 153,802 lots sitting in various entitlement stages at the municipality and/or the county for approval, up 1% from 1Q14. There were 1,133 lots in the pipeline that have been delivered into the market as VDL. The state of Delaware continues to house the most future lots: Sussex County, DE has 38,544 lots in the pipeline, Kent County has 19,193 and New Castle County has 17,293. The county with the most future lots in the Philadelphia MSA is Chester County, PA where there are 13,864 lots.
Builders in the Philadelphia Region have remained fairly confident with the turbulent housing market here never seeming to put consecutive quarters and or months together of positive sales and closings. There are early headwinds that this region may start to see more positive signs in new home construction, but significant challenges still remain. Positive economic indicators include a strengthening job market in the region and specifically in the Philadelphia MSA. Conditions have stabilized on a macro view, but obviously there are markets and submarkets that still have issues to resolve before a more robust rebound can occur. We expect to see all housing indicators continue to show signs of health.
Learn more about markets featured in this article: Philadelphia, PA, Atlantic City, NJ.