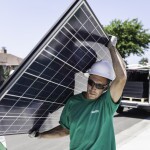 Earlier this month, SolarCity officially opened for business in South Carolina. By the end of October, the company hopes to have an operations and installation center in Charleston, and has already begun hiring installers and sales representatives in the area.
The company is also running a pilot e-commerce center, offering buyers in Charleston a discount on their solar panels if they purchase them online.
The company says in a press release that its expansion into South Carolina is made possible by a new solar loan program that went into effect earlier this summer. That program offers residents a choice between a 10 year or 20 year loan. They also have the option of paying for their rooftop solar system in full at the time of installation.
The loans allow customers to prepay their entire balance or a portion of their loan to lower their monthly payments at any time, with no fees or penalties. The company will also provide and install a Nest Learning Thermostat at no additional cost for qualifying customers.

Read more >