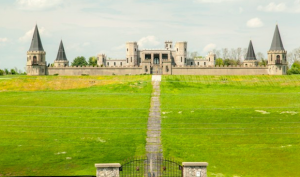 Unlike Europe, the land of America is not often associated with castles. But Curbed research finds that in fact there is at least one castle in every state of America. Citylab's Eillie Anzilotte dives into the list of castles and narrows it down to 18 markets where the property is actually for sale now. For builders, a custom luxury home with a castle-like architecture style can be a way to woe customers, especially those who are willing to pay for their fairy tale dreams. Anzilotte writes,
"Often, we write about how to address the urgent need for affordable housing; this is about as far from a solution as you can get. These dwellings aren't affordable, and they're not really houses, either—they're bizarrely palatial spreads fit for the suburban monarchy."
The 18 markets are: Daphe, Ala., Alpine, Calif., Greenwich, Conn., Punta Gorda, Fla., Peru, Ind., Las Vegas, Nev., Adel, Iowa, Versailles, K.y., Saint Clair Shores, Mich., Watchung, N.J., Bolton Landing, N.Y., Fremont, N.C., Inman, S.C., Scranton, Pa., New Braunfels, Texas, Draper, Utah, Saint Albans, Vt., and Richland, Wash..

Read more >