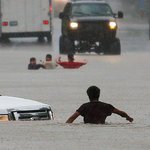 Texas has had one hell of a spring this year, with the southeastern and central regions of the state being consumed by rain and floods. The New York Times's Christine Hauser reports six people have died from the flooding, and more rain is about to hit.
Weather Service meteorologist Lamont Bain says heavy rains from the Gulf of Mexico create rapid runoff in Hill Country, where rain is poorly absorbed among sprawling concrete communities. The rain in the last week has been spurts of intense downpour, which have circulated through East Texas, Dallas, Corpus Christi, Austin, San Antonio, and others. Rainfall has ranged between 4 inches to 30 inches.
The National Weather Service forecasted up to another foot of rain between Wednesday through Friday in some central and southeastern parts of Texas.
Our own Brian Croce recently followed up with builder in Houston who were getting a grip on floods last month.
Read more >