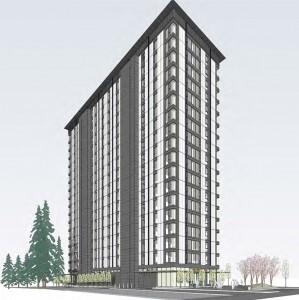 A new building is at the University of British Columbia campus in Vancouver, B.C., is intended to show developers and the public that wood can be equally as effective as steel or concrete, better for the environment and support the country's forestry industry.
The 18-story Brock Commons building, which costs 8% more than traditional steel and concrete buildings, will house 404 students and serve as a test case for high-rise wood buildings, reports Global News.
Designers, engineers and the university purposefully chose a simple design with repetitive floor plans in order to gain special approval from building code authorities. National building code regulations currently limit wood structures to four stories. However, with new research and engineering, some provinces have allowed architects to push the boundaries.
In British Columbia, provincial codes have allowed wood towers to reach six stories since 2009. Codes in Quebec and Ontario have followed suit. Timber-related industries hope Brock Commons will help make a case for building codes to allow 10- to 12-story wooden structures in the future.

Read more >